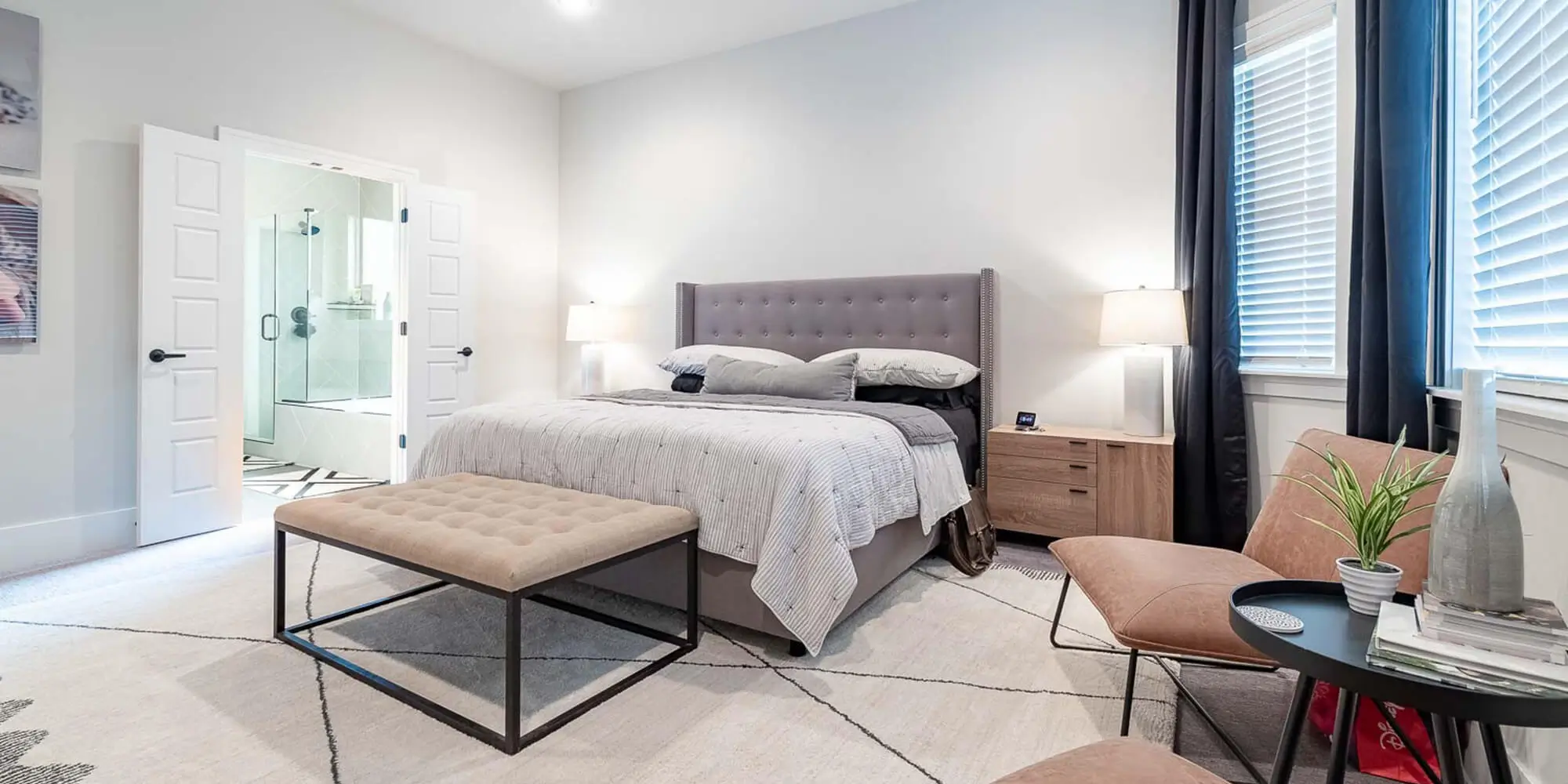 Did you know November is National Sleep Comfort Month? It's true, and honestly, we should focus on comfy sleep every night of every month. Sleep is essential for recharging our bodies and minds from the stresses of the day. After a good night's sleep, we're able to perform better, make smarter decisions, feel more optimistic, and spend the day feeling refreshed and alert as soon as we wake up. That sounds as magical as the world's best cup of coffee.
Let's Talk About Comfort
Feeling comfortable plays a huge role in the quality of our sleep. It helps our bodies relax and fall asleep faster. And, the more comfortable we are in a cool and quiet room, the longer we can stay asleep.
When it comes to sleep comfort, many focus on the firmness of our mattress, the contour of our pillow, and the thread count of our linens. While those things make a difference, achieving a comfortable night's sleep can also be affected by factors outside of our bed. The design and atmosphere of a bedroom are essential to cultivating a restful space. With this in mind, here are five elements to consider when you want to settle into slumber with ease. (We've also included bonus tips if you're building with Buffington!)
Essential Elements of a Restful Room
1. Space Planning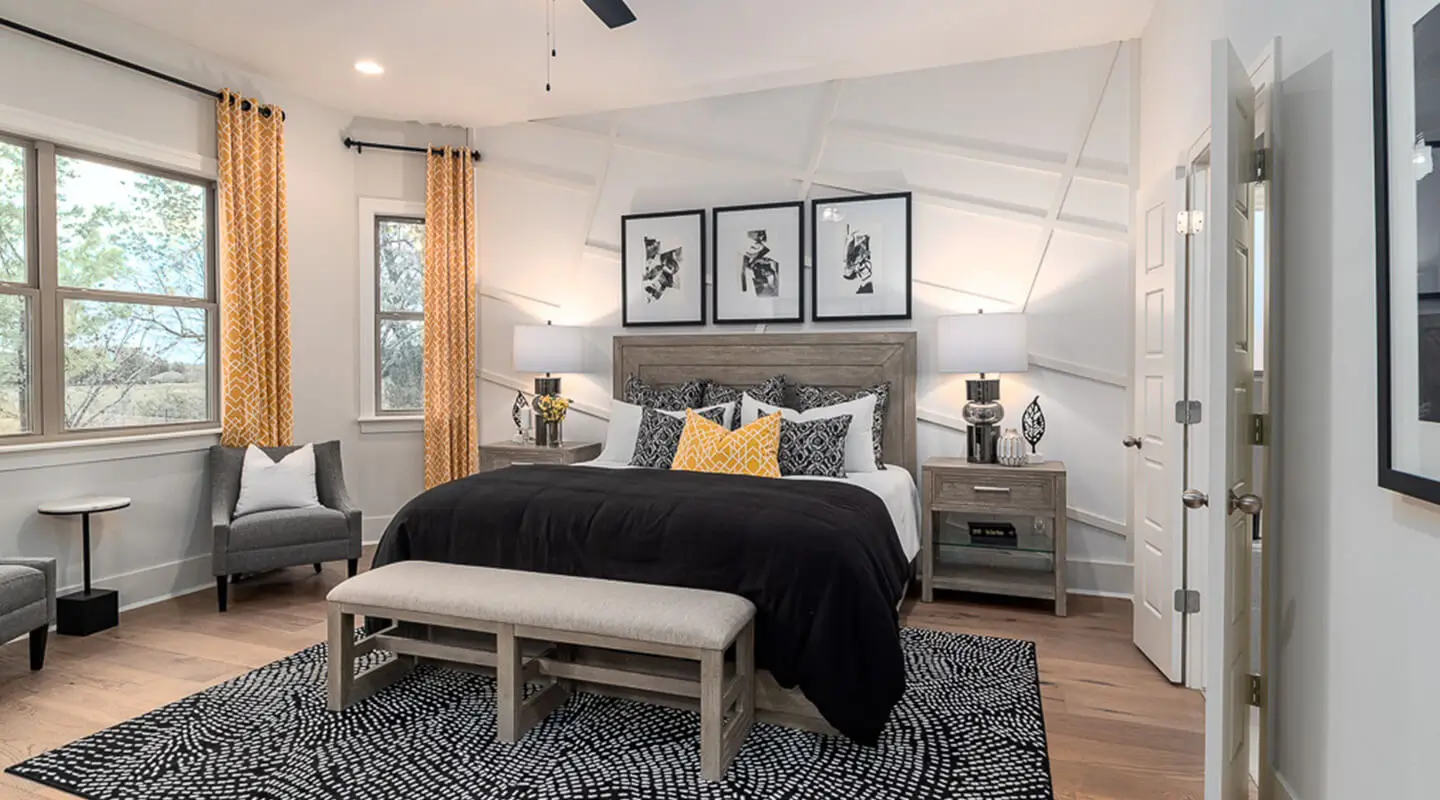 Designing a stress-free bedroom begins with proper space planning. When setting up your room, think of your bed as the focal point. Place it along the longest uninterrupted wall, which is the most aesthetically pleasing location for a bed.
Once the bed is in place, map out the rest of the room before adding nightstands, dressers, or chairs. You should be able to walk around, open drawers, and easily get to the bathroom without feeling cramped. A good rule of thumb is to leave at least 22 inches of walking space around either side of the bed and at its foot. If it's a small room, consider using less and smaller furniture.
Bonus Tip: Most Buffington floor plans offer the option of a bay window. This expands the space in your room and provides more flexibility for arranging furniture. Not only that, but you'll gain a cozy spot for reading and further relaxation.
2. Quality Shades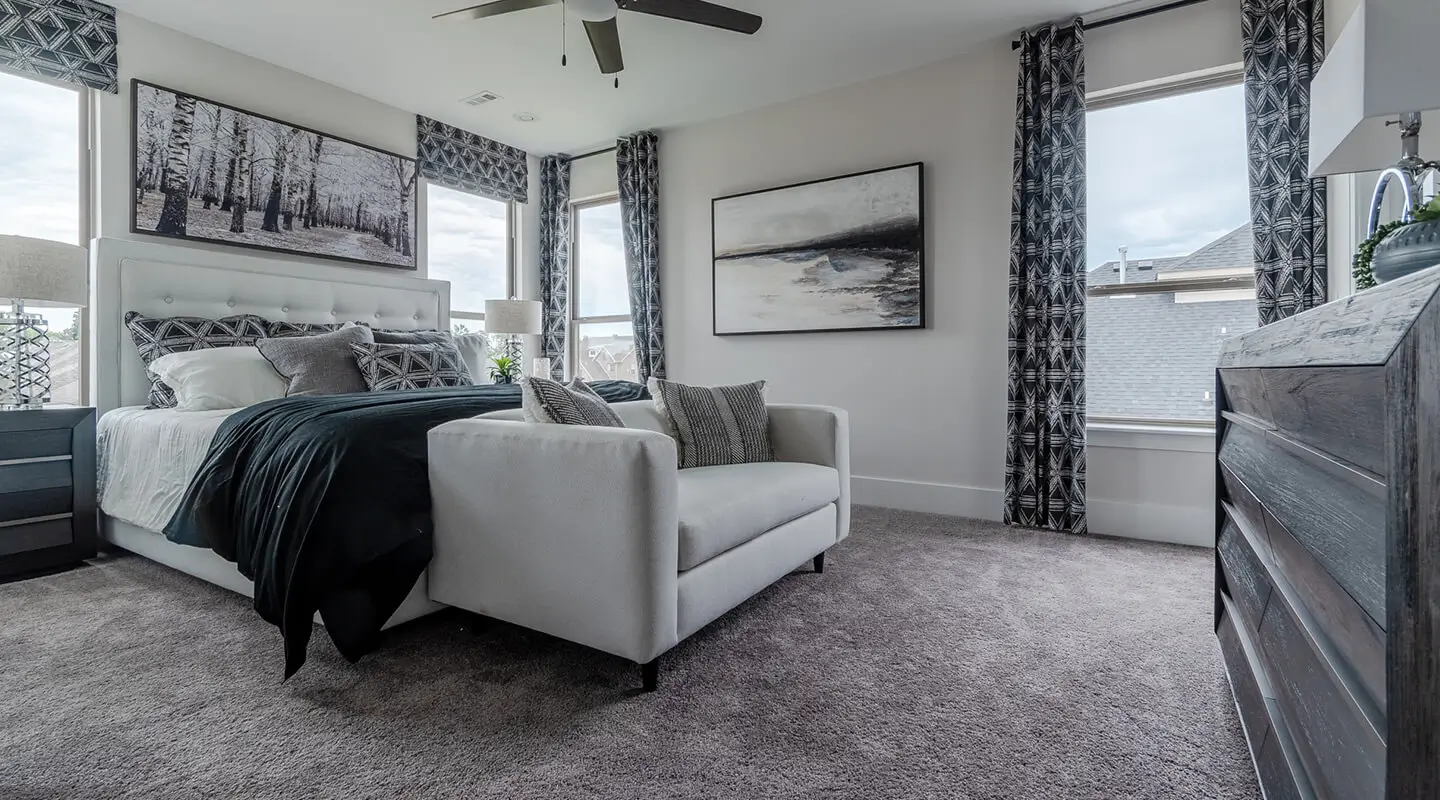 Managing your exposure to light is fundamental to creating a healthy sleep environment. That's because light is the most powerful cue for your circadian rhythm, which regulates your sleep. When it's time for bed, you want to make your bedroom as dark as possible to reinforce a healthy rhythm. (It's also helpful to set the temperature to a cooler setting. Between 60 to 71 degrees Fahrenheit is ideal.)
Curtains and shades are an easy way to cool a room and keep outside light from disturbing your sleep. Make sure the window coverings are heavy enough to fully block light, like blackout curtains, and that they're well fitted to avoid slivers of streetlight from filtering into the room.
Bonus Tip: Blinds are an upgrade option for all of our homes. They're a great addition for privacy and light control in your bedroom. And, you can layer curtains for added darkness. We also suggest using a dimmer switch on overhead lights to help you gradually darken the room for more restful sleep.


3. Soothing Colors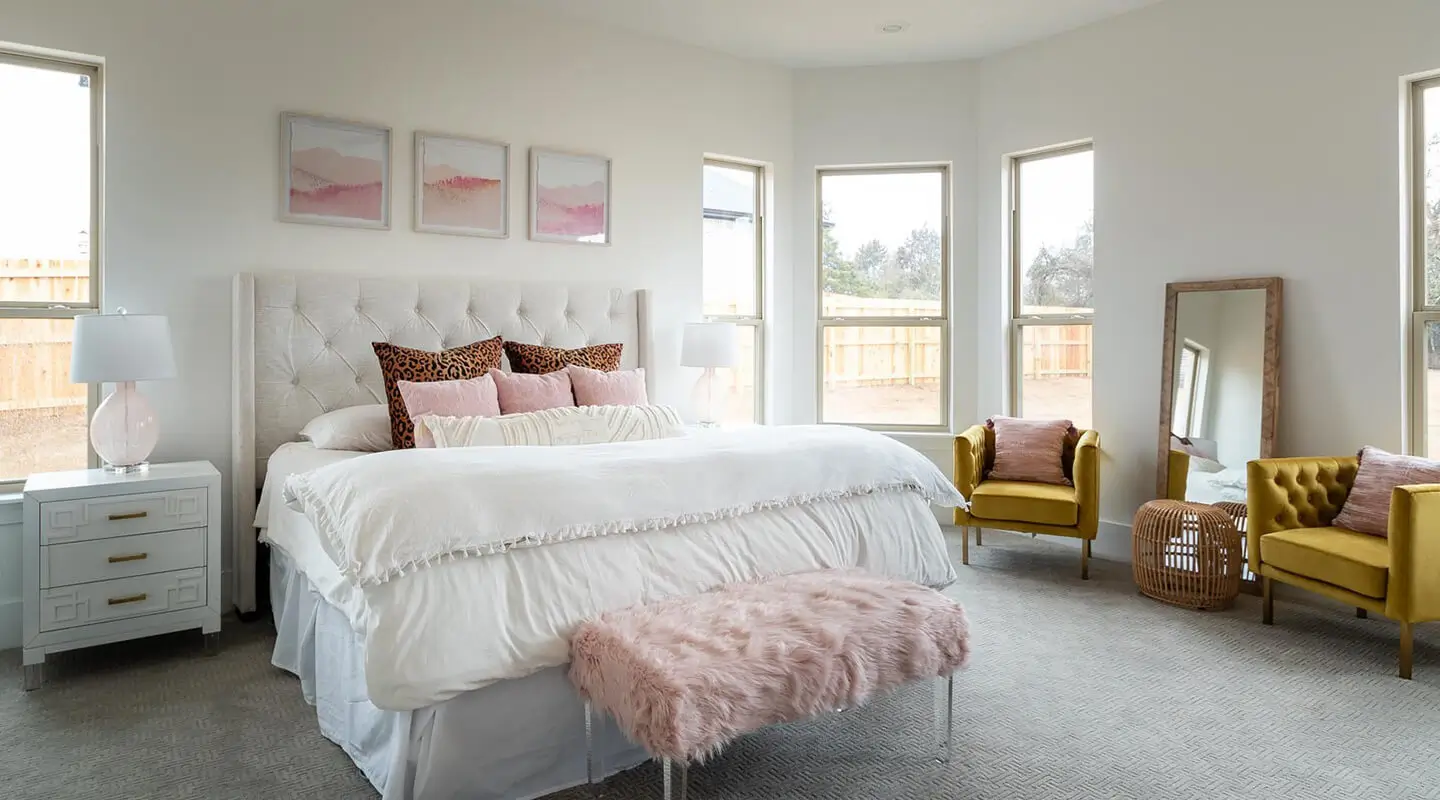 You may choose the colors of your home purely from an aesthetic standpoint, but colors can also affect your mood and ability to sleep. Research shows certain colors evoke relaxation, while others stimulate your mind and make you feel more awake.
Your walls, floors, furniture, and bedding all factor into the color scheme of your bedroom, and it's important to emphasize the colors that make you feel at ease at bedtime. For most people, softer, more muted colors offer the most benefits.
Bonus Tip: If you're not sure what colors feel the most relaxing, we encourage you to visit the model homes in all of our communities. Each luxurious home is designed with different colors and styles, so let them be an inspiration for your own home!
4. Cleared Clutter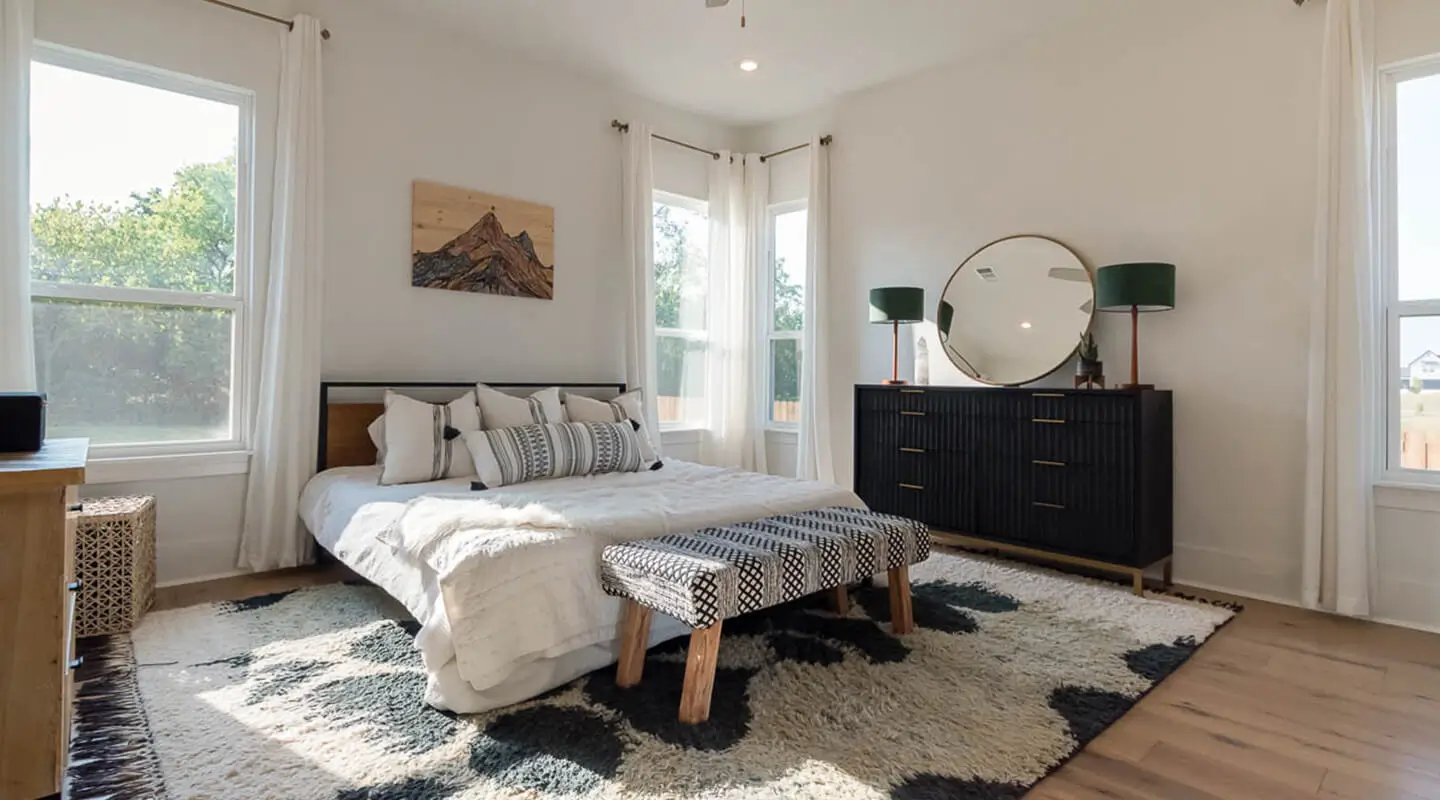 If you've ever looked at a pile of clothes on the floor (and who hasn't), you can understand that visual clutter generates stress. Disorganized items in your bedroom reinforce the sensation of having too many loose ends. This creates anxious feelings that make it harder to relax your mind and get quality sleep.
While the solution centers around creating good habits, one of the biggest obstacles to staying organized can be limited space. We suggest utilizing your closet as much as possible. Invest in matching hangers and baskets, and have a plan for where everything belongs. If you need further inspiration, you might like this post on decluttering your home.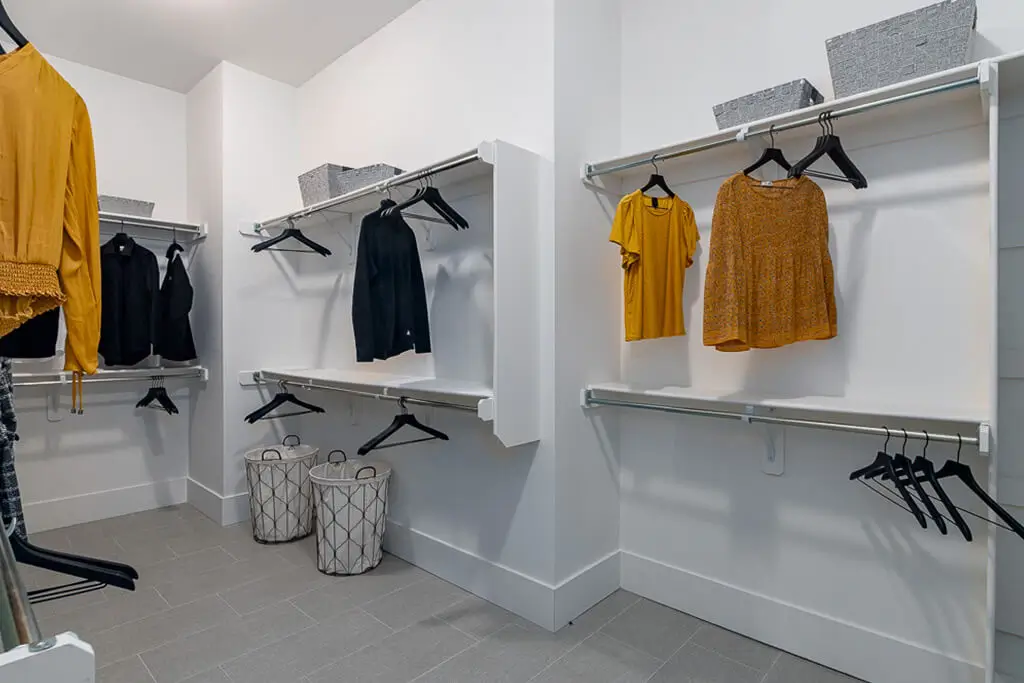 Bonus Tip: Many of our floorplans, such as the Gramercy pictured above, offer extended walk-in-closets so you can dedicate more space for your belongings and have total organization from day one in your new home!
5. Purifying Plants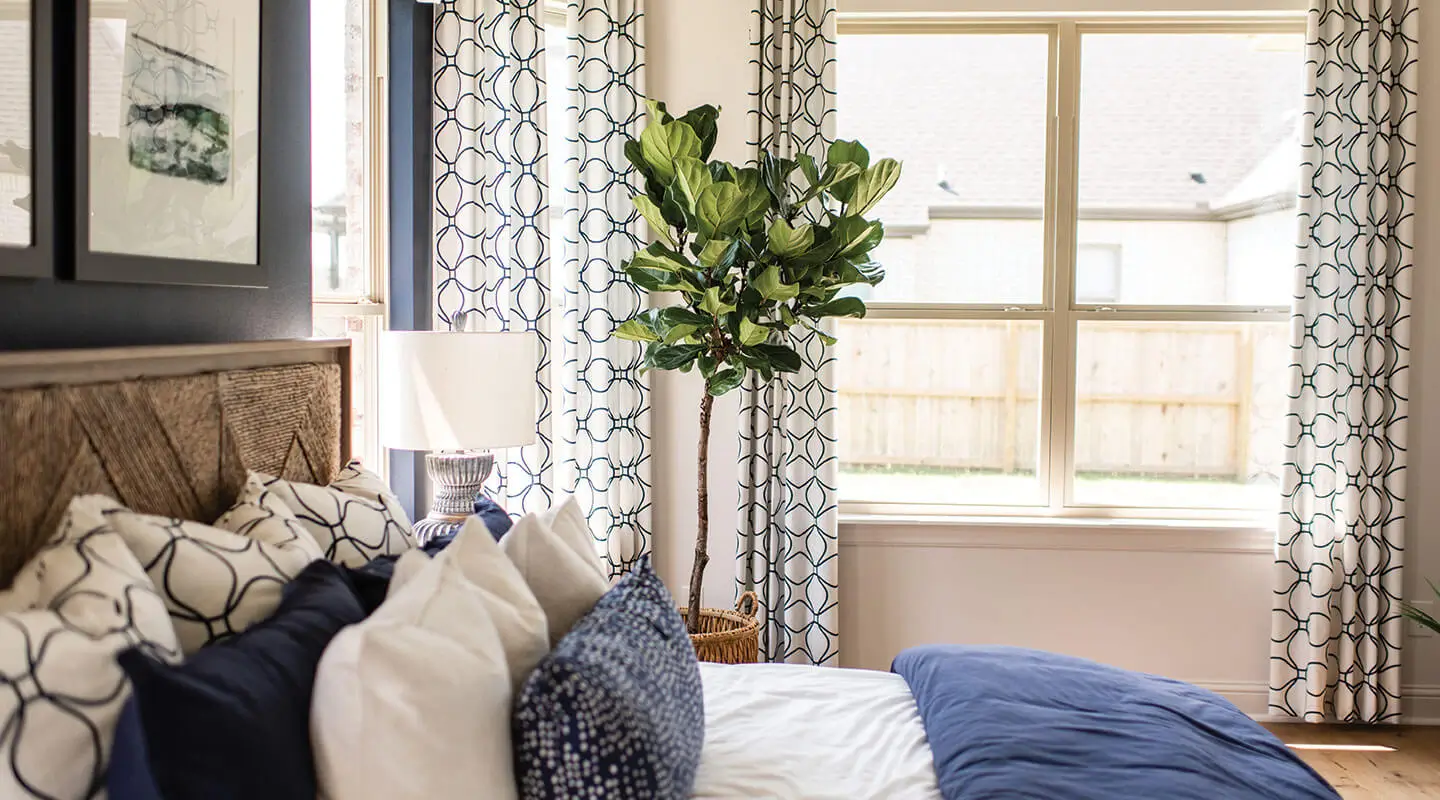 Indoor plants not only look great in your home but also provide amazing health benefits. Caring for plants has been shown to help reduce stress levels, and selecting the right plants can help purify the air around you.
Having a purifying plant in your bedroom could help you breathe easier throughout the night as it releases oxygen and absorb carbon dioxide that's exhaled during sleep. The snake plant, in particular, is known as a wonderful air purifier. In addition to absorbing carbon dioxide, it removes other harmful chemicals such as xylene, trichloroethylene, toluene, benzene, and formaldehyde. Formaldehyde is often found in hairspray, so this is a great plant for your bathroom, too.
Want a lovely blooming plant? Go with a Jasmine, which has small white flowers and emits a sweet scent that's often used for relaxation and improving sleep quality. If you're interested in learning more, you'll love this interview with a local plant store owner that's full of great advice on houseplants.
Bonus Tip: Our floorplans are designed with lots of beautiful windows, ensuring your plant babies get the nurturing, natural light they need to grow. We also offer options for built-in shelves, window nooks, and bump-outs that make perfect spots for plants.
The Sunny Side of Better Sleep
As we now know, getting a comfortable night's sleep is vital to your mental and physical health. In addition to designing an ideal bedroom, we suggest stepping outside. Studies have shown that getting more sunlight can help even people with insomnia get more restful sleep. Many Buffington communities have walking paths, ponds, playgrounds, and other outdoor spaces for you to gather with neighbors and soak up the beauty of Northwest Arkansas. It's just one more way we're helping you build a life you'll love.
If you're ready to design the most relaxing owner's retreat in a brand-new home, it all starts here!