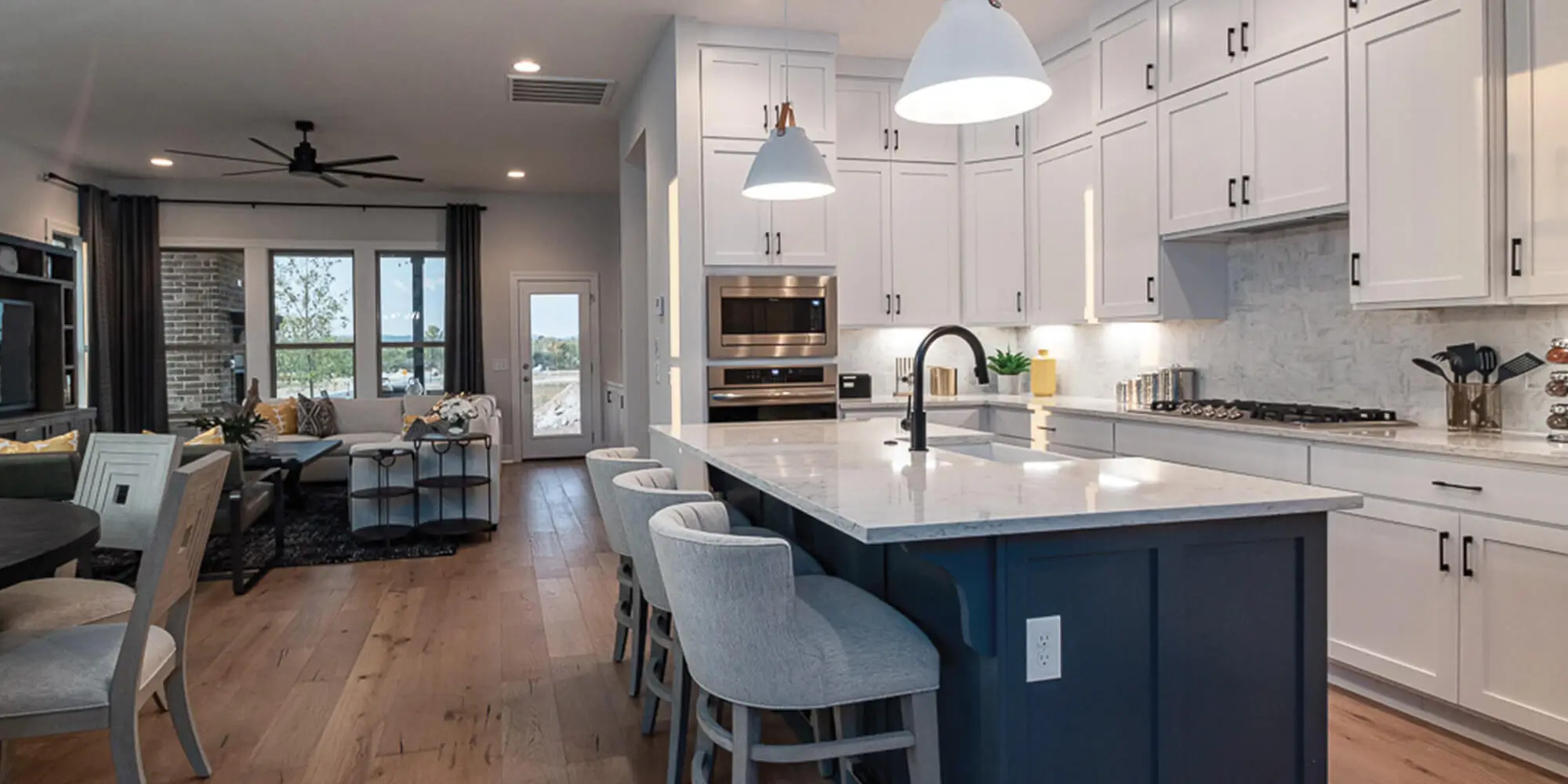 Before we get to the specifics of our spectacular model home, we'd like to welcome you to Magnolia Park! This charming destination is located on the west side of Fayetteville and is currently the newest Buffington community in Northwest Arkansas.
Homeowners have easy access to I-49 as well as the Clabber Creek Trail, Gary Hampton Softball Complex, and some of the best area schools. In fact, it's within walking distance to Holcomb Elementary. To learn more about Magnolia Park, including area attractions, check out this article.
A Walk in the Park
Today, we're delighted to take you on a room-by-room tour of our Magnolia Park model home. We have beautiful photos along with design details from our design studio manager, Ashley Goode. One thing that makes Buffington Homes different from any other builder in Northwest Arkansas is our design studio. It's where you meet with experienced designers who help you get inspired, personalize your home, and feel more confident as you select every detail of your new home.
A Floor Plan Favorite
The Magnolia Park model home features the Gramercy, one of our most popular floor plans. It's offered in not only Magnolia Park but also Allen's Mill and Preston Park. It's a beautiful, spacious plan that makes use of every square inch. The Gramercy is perfect for entertaining and offers plenty of options to make this home truly your own.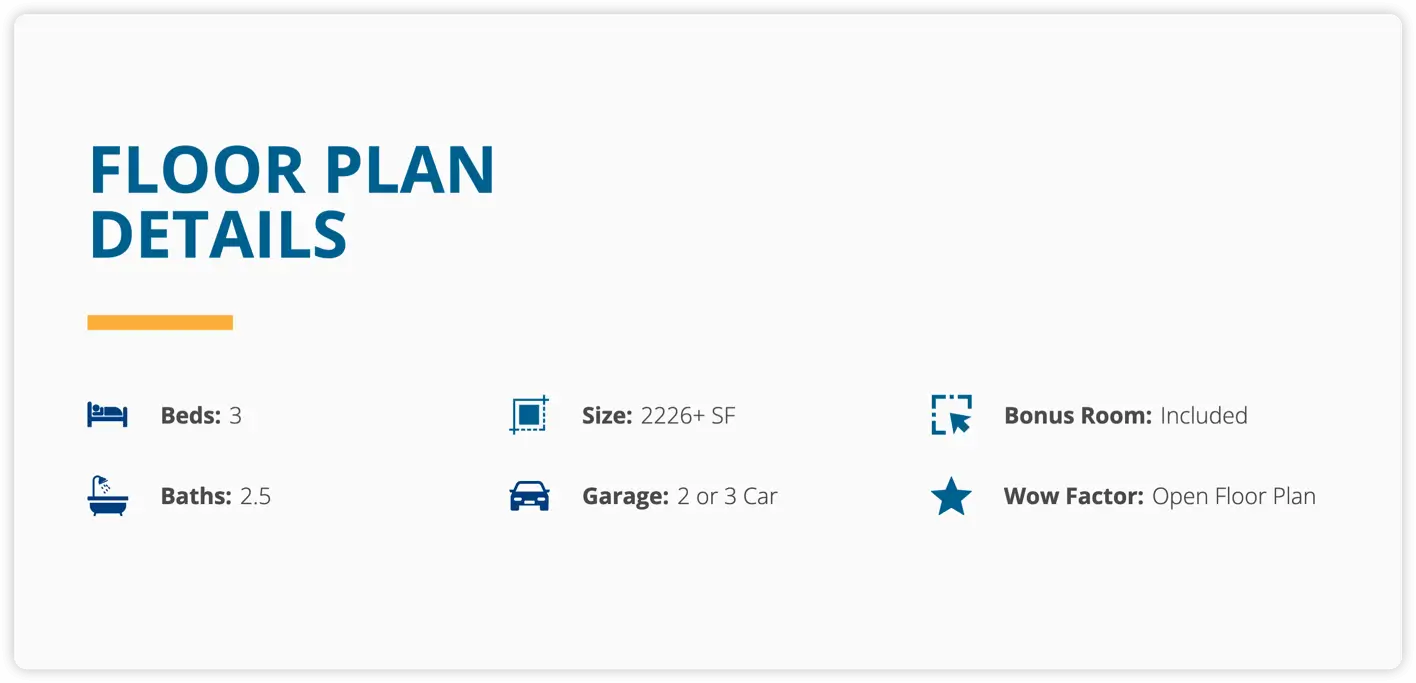 The Gramercy comes standard with three bedrooms, two and a half bathrooms, a bonus room, and an open layout with plenty of windows for natural light. You have the option of adding a fourth bedroom and third bathroom, as well as an indoor fireplace, extended covered patio, outdoor fireplace, or third-car garage. To see the floor plan and its full list of options and elevations, view this PDF.
Ready for Your Tour?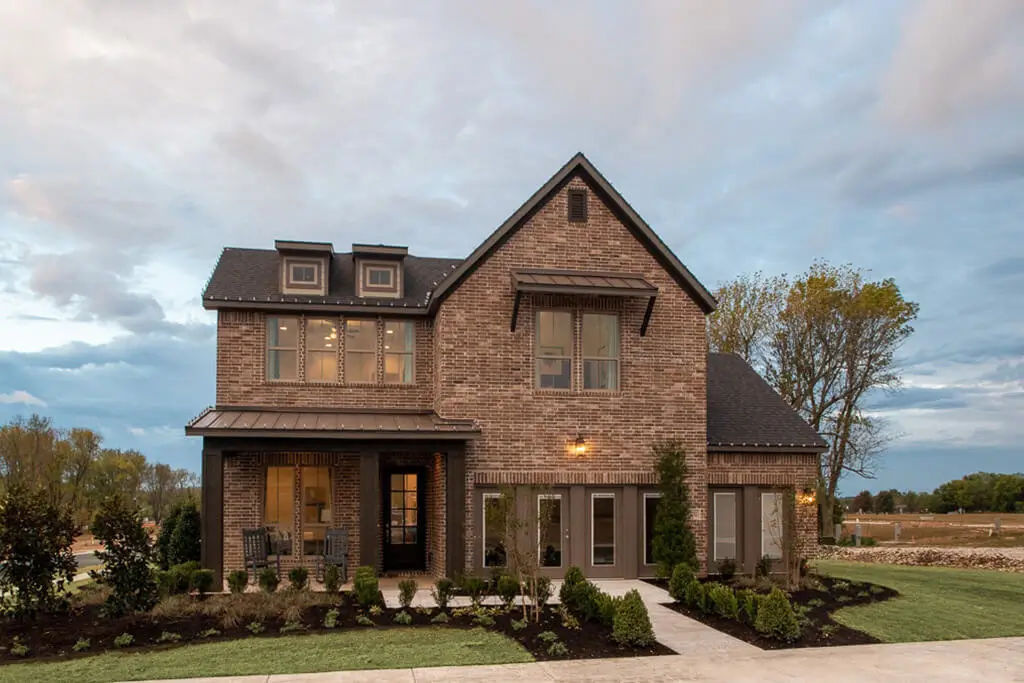 Walking up to the model home, you're greeted with a cozy front porch that's big enough for a couple of chairs or a swing. The Gramercy offers four elevations, so if you want a porch, elevation B is the one for you!
We chose Hickory for the brick with light mortar. After installation, this brick became unavailable, which can happen. If you like this look, our designers can help you find something similar. We can also help you choose a paint color, which is a popular option. In fact, we'll be painting this exterior with Early Evening in the coming weeks. Be sure to stop by to see the reveal.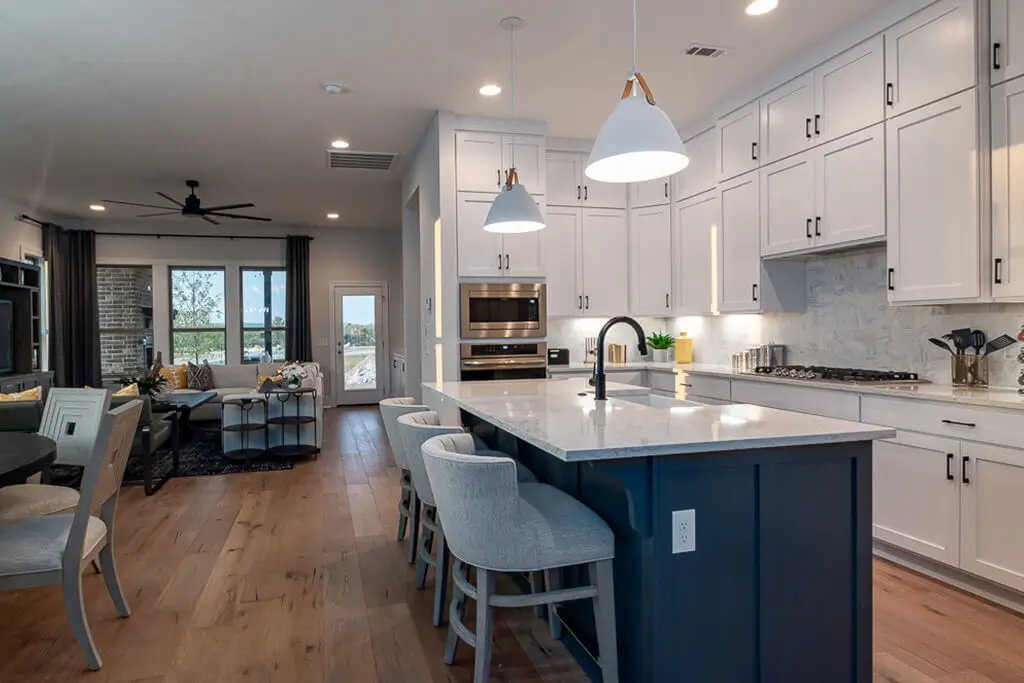 Once you're inside the home, you'll discover an open layout, tons of windows for natural light, and the kitchen of your dreams. The sizable island is great for entertaining and flows right into the dining area with expanded seating for family or guests.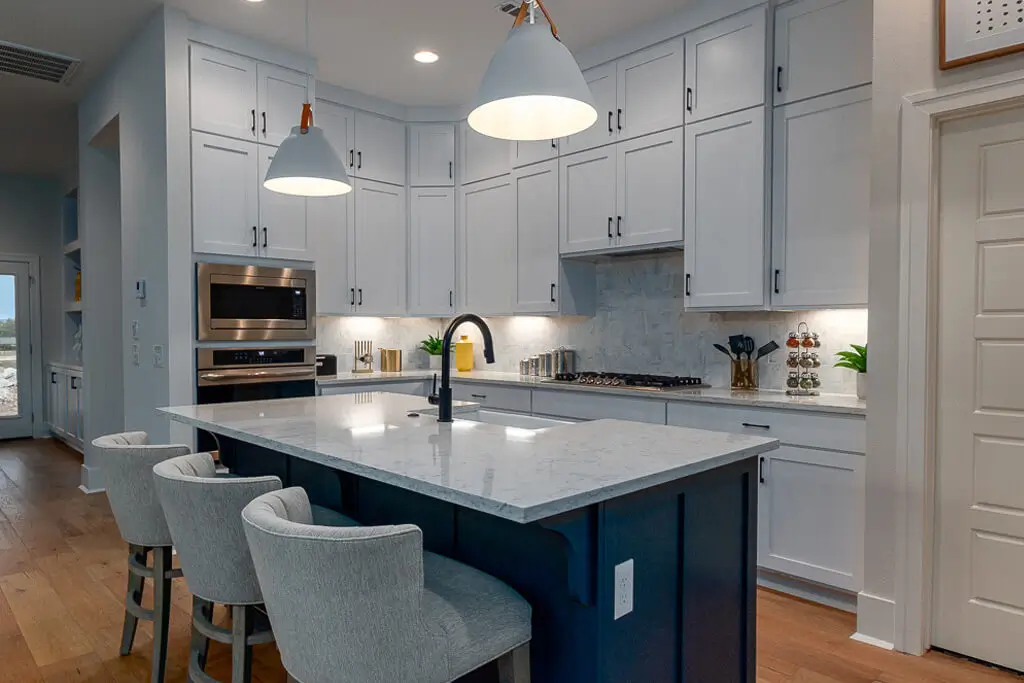 Diving into details, this kitchen features cabinets to the ceiling, making the room feel bigger. The cabinet color is Pure White, and the hardware is a matte black, square bar pull. The backsplash has Honed Mass Bianca tile installed in a stylish square herringbone pattern, and the countertops are the popular Minuet granite. The island is painted with Onyx and features a Matte Black Trinsic faucet from Delta.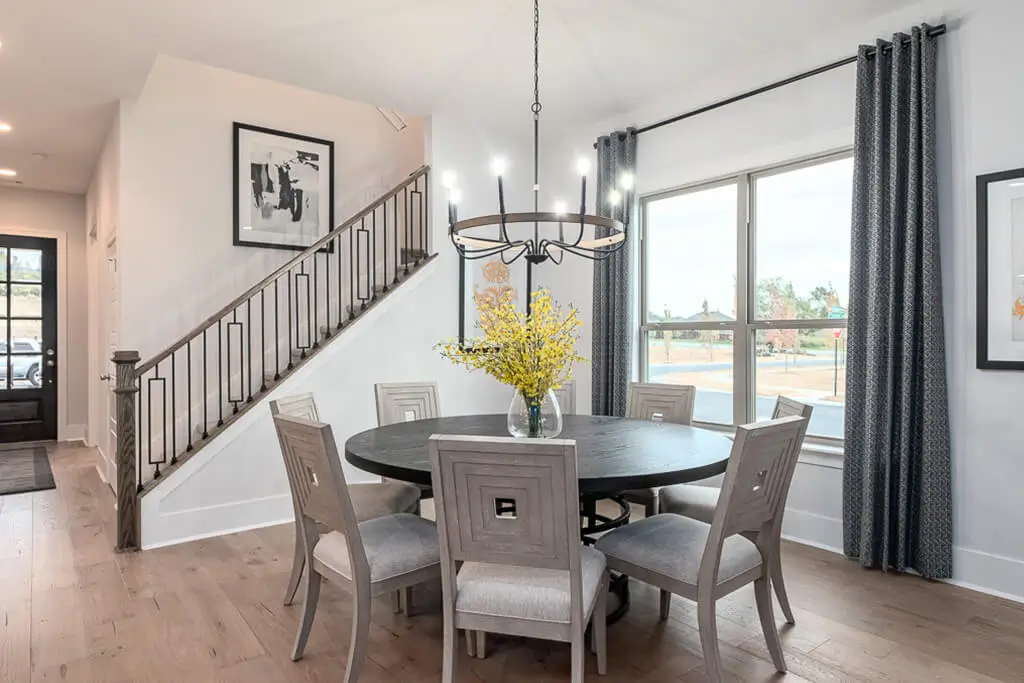 Directly across from the kitchen is a generous dining area with a lovely backdrop of windows. You'll also notice a stairway that adds architectural interest with a stained handrail and our popular wrought iron rectangle baluster.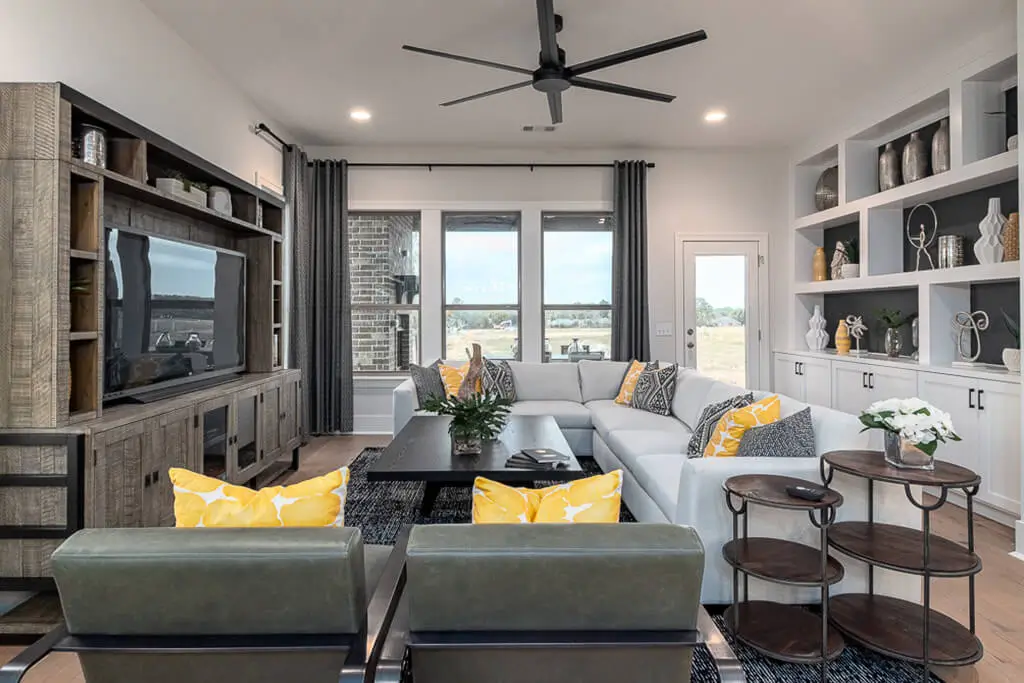 Extending beyond the kitchen and dining area is a spacious living room. It's large enough for a sectional and chairs, allowing for comfortable conversations. You have the option to add a fireplace and built-in shelves with cubbies. This room has direct access to the outdoor patio, which expands your entertaining space.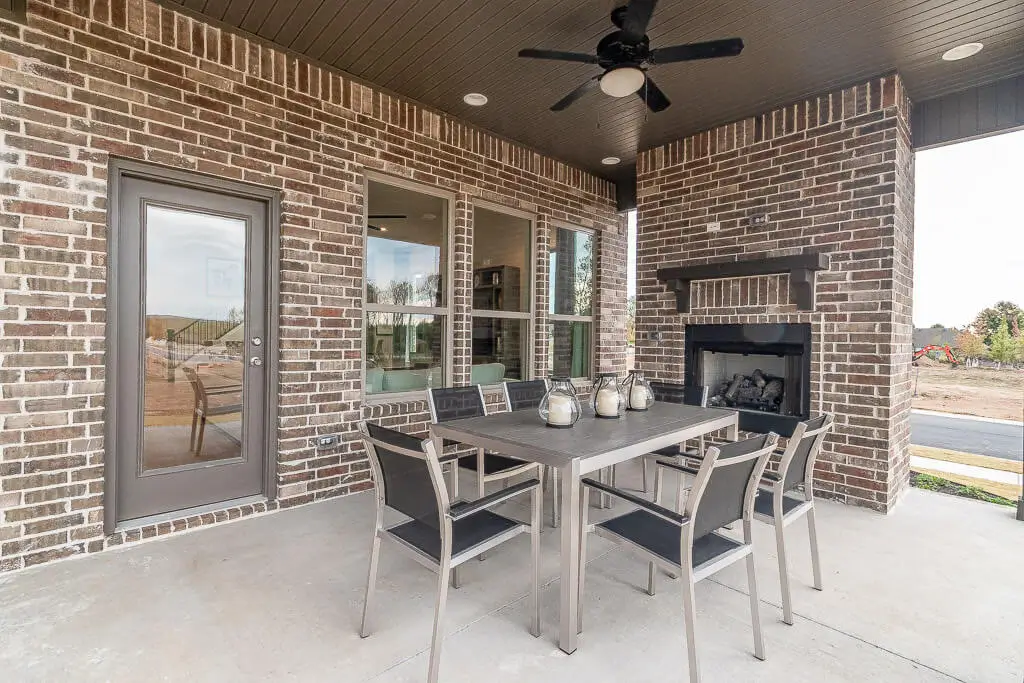 The Gramercy offers two patio sizes, both covered. The extended patio allows for a fireplace and space for a TV, which is shown above. This outdoor room can be wired for electricity to accommodate a TV, string lights, or any other electrical appliances you'd like in this space. These are fun details we talk through in our design meetings.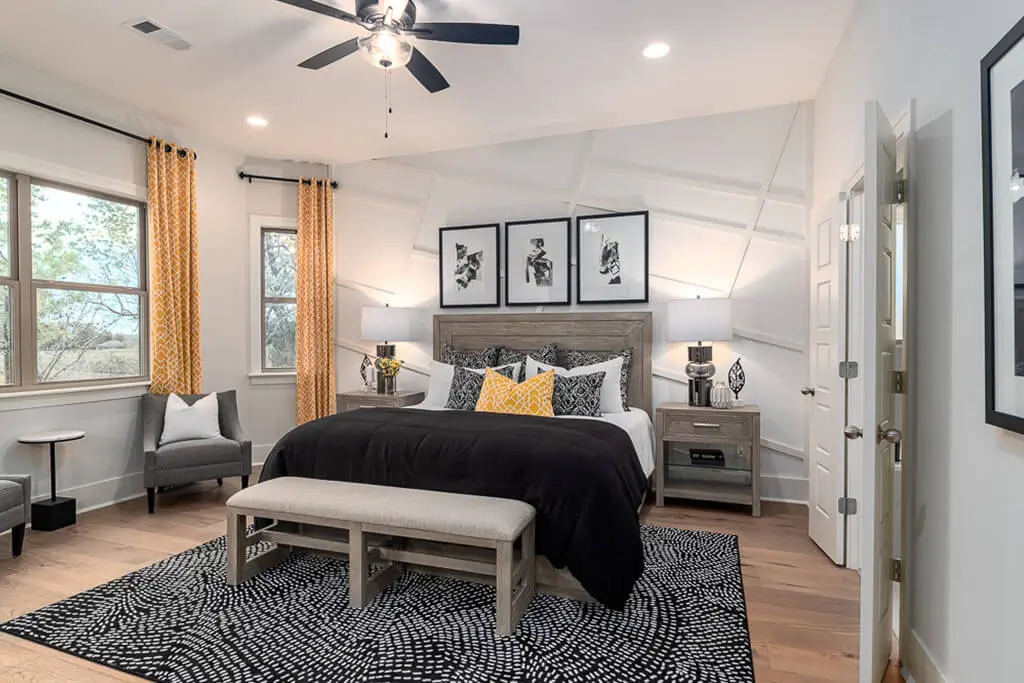 Let's step inside the owner's retreat, which is tucked away on the first floor. This sanctuary is both roomy and relaxing. You have the option to add a bay window, offering extra room for lounging and additional windows for light. This room features a stylish accent wall designed with trim. The luxurious bathroom is located on the other side of those French doors.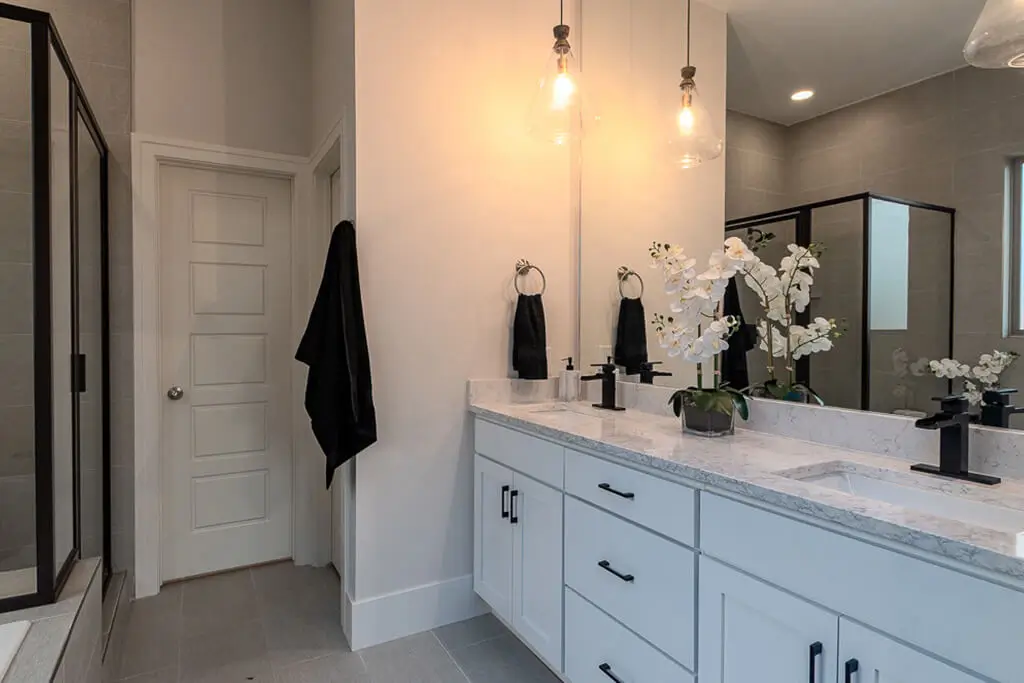 Entering the bathroom, you'll notice the gorgeous light fixtures from our new lighting line! You also have the option for vanity lights if that's more your style. The countertops are Minuet quartz and the hardware is a matte black, square bar pull, complementing the kitchen for a consistent look throughout the home. This bathroom has a black-framed shower glass, but you have the option for frameless. The tile is Belgian Linen Mist, and the faucets are Delta, Matte Black Ara.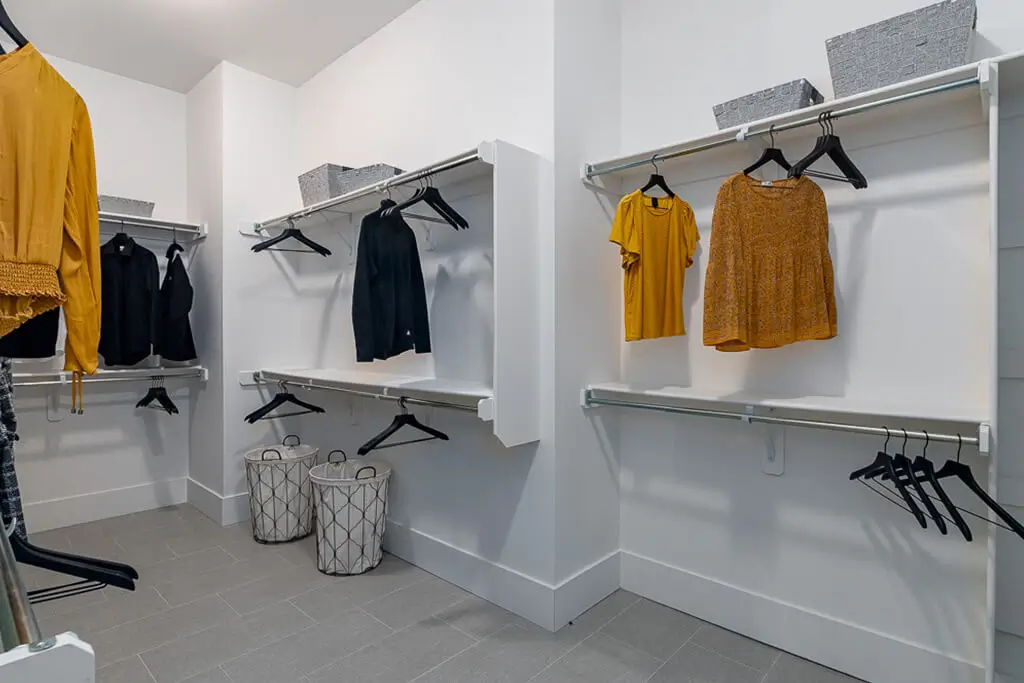 Can we talk about this jaw-dropping closet for a second? This is an extended walk-in closet, which is an option in the Gramercy. It provides space for days and includes shelving, so you can get (and stay) organized from day one in your new home.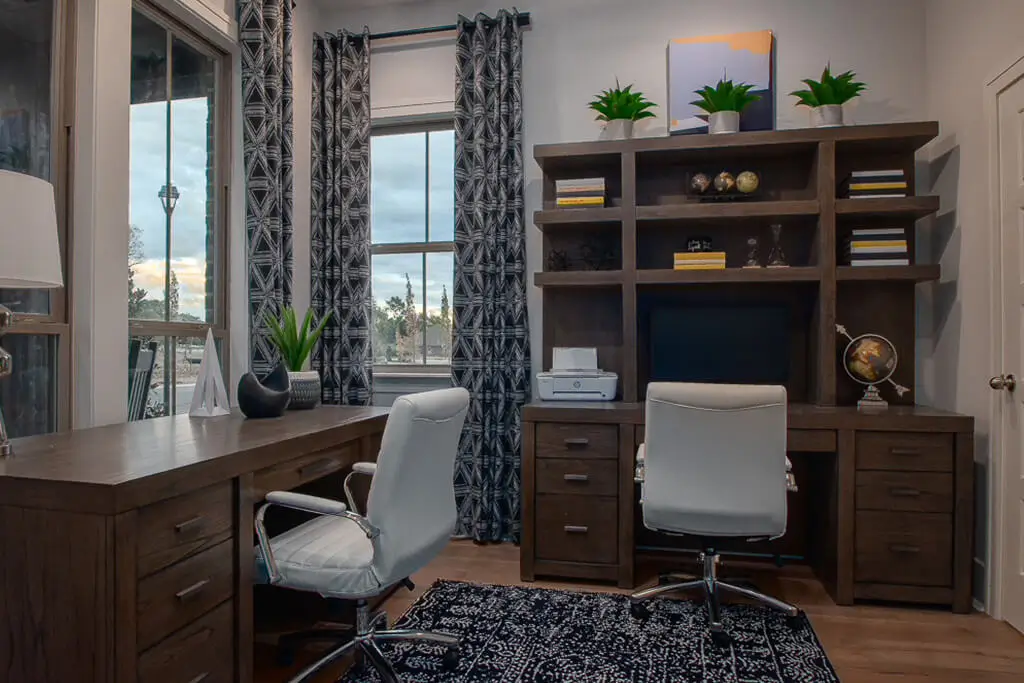 Also on the first level is space for a home office. Located toward the front of the floor plan, the windows overlook the porch and front lawn. This room comes with 8-foot double doors that can be solid or glass. It can also be considered a 'flex room', used as a bedroom, playroom, music room, or exercise room. There are so many options to make this home fit your life.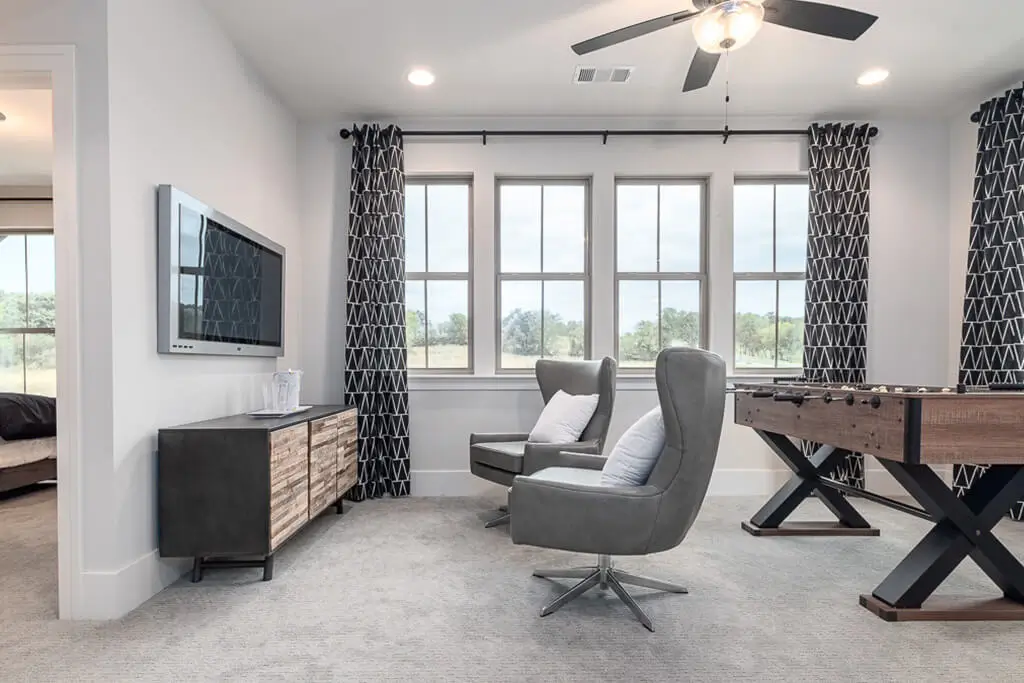 Heading upstairs, you'll see a large landing that's designed with a bank of windows and plenty of space to play. This bonus room can be used as a game room, media room, home office, or play area for young kids. And, you can easily access all of the secondary bedrooms from this space.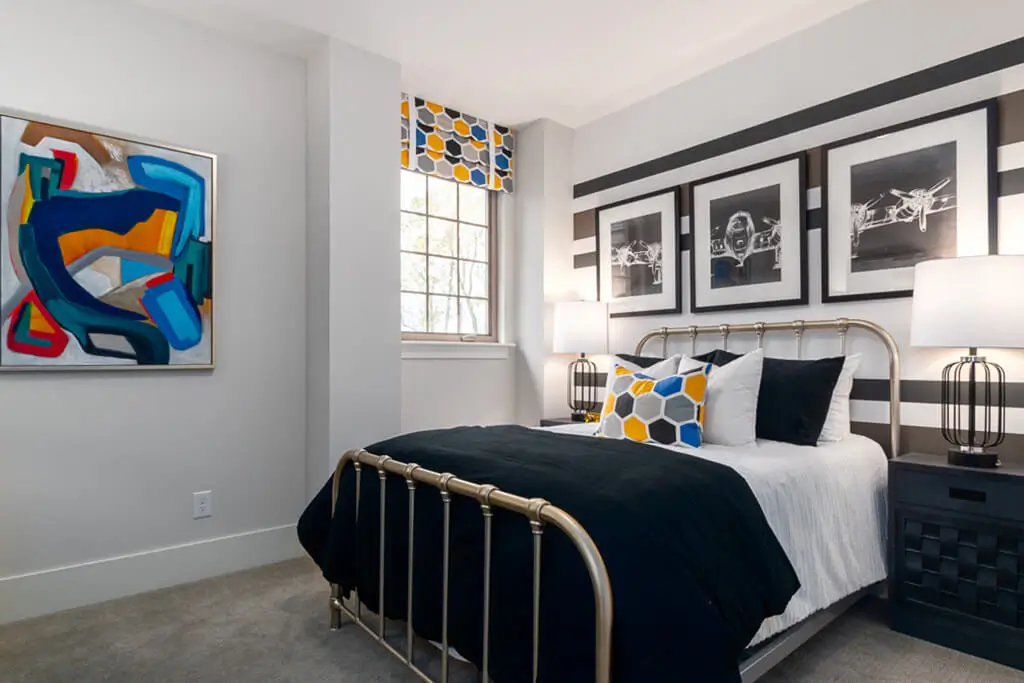 Speaking of bedrooms, the Gramercy comes standard with three bedrooms, two of which are upstairs. You also have the option to add a bedroom. Pictured above is the second bedroom, styled with fun colors and a striped accent wall. All rooms come with walk-in closets and privacy from the bonus room.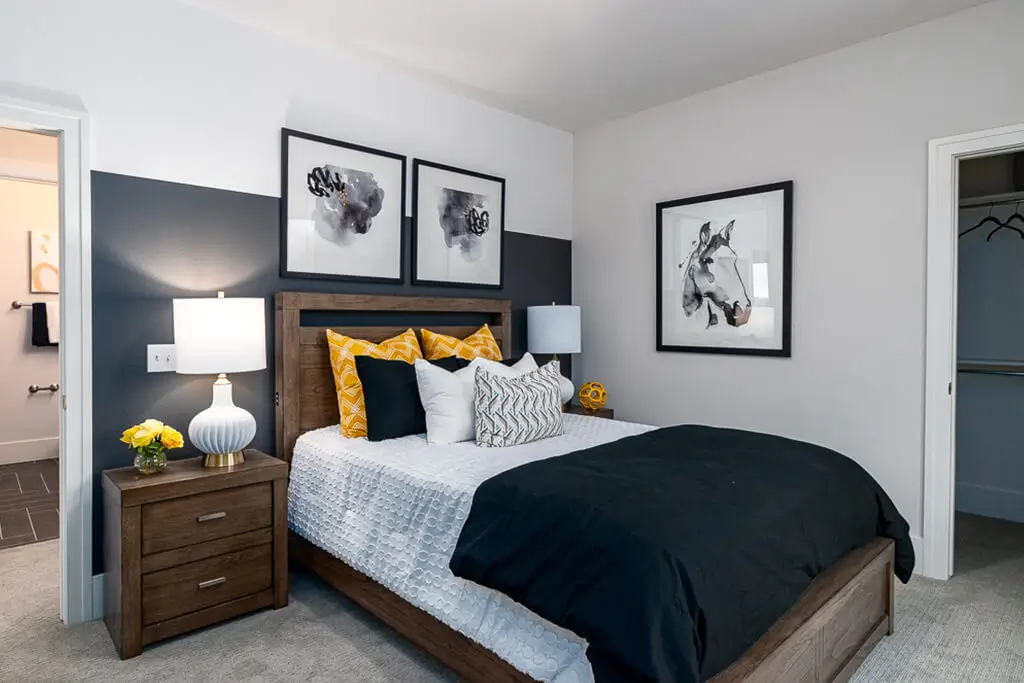 This is the third bedroom with another statement wall behind the headboard. You can see the bathroom is easily accessible as it's located across the hall.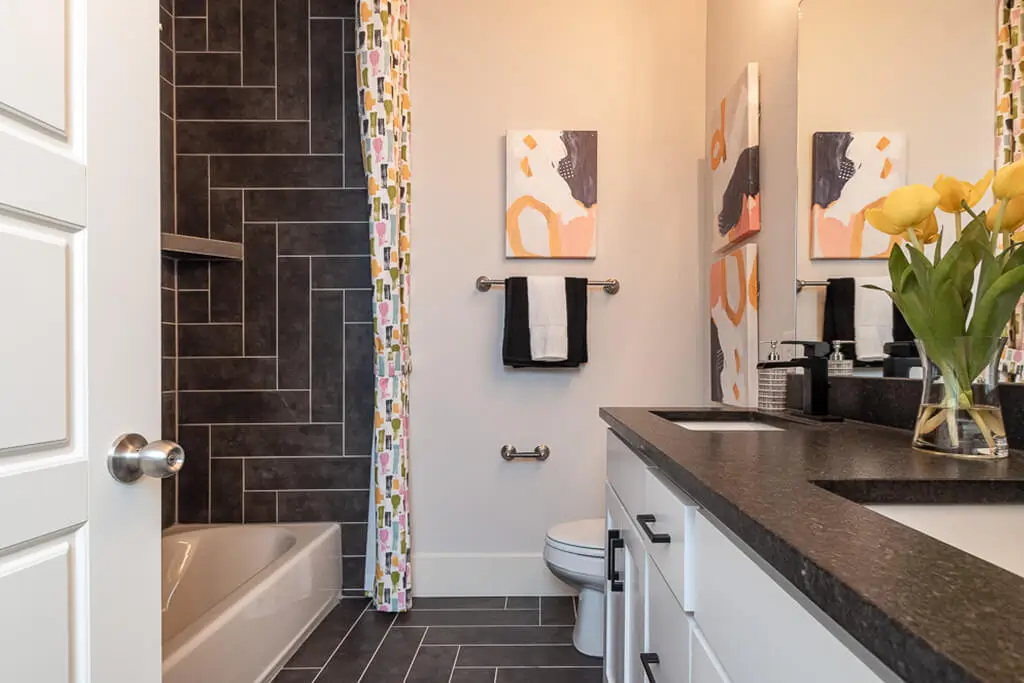 The bathroom features our 6 x 24 concrete tile installed in a square herringbone pattern for added style and interest. The countertop we chose is brushed black granite and looks fantastic paired with the tile.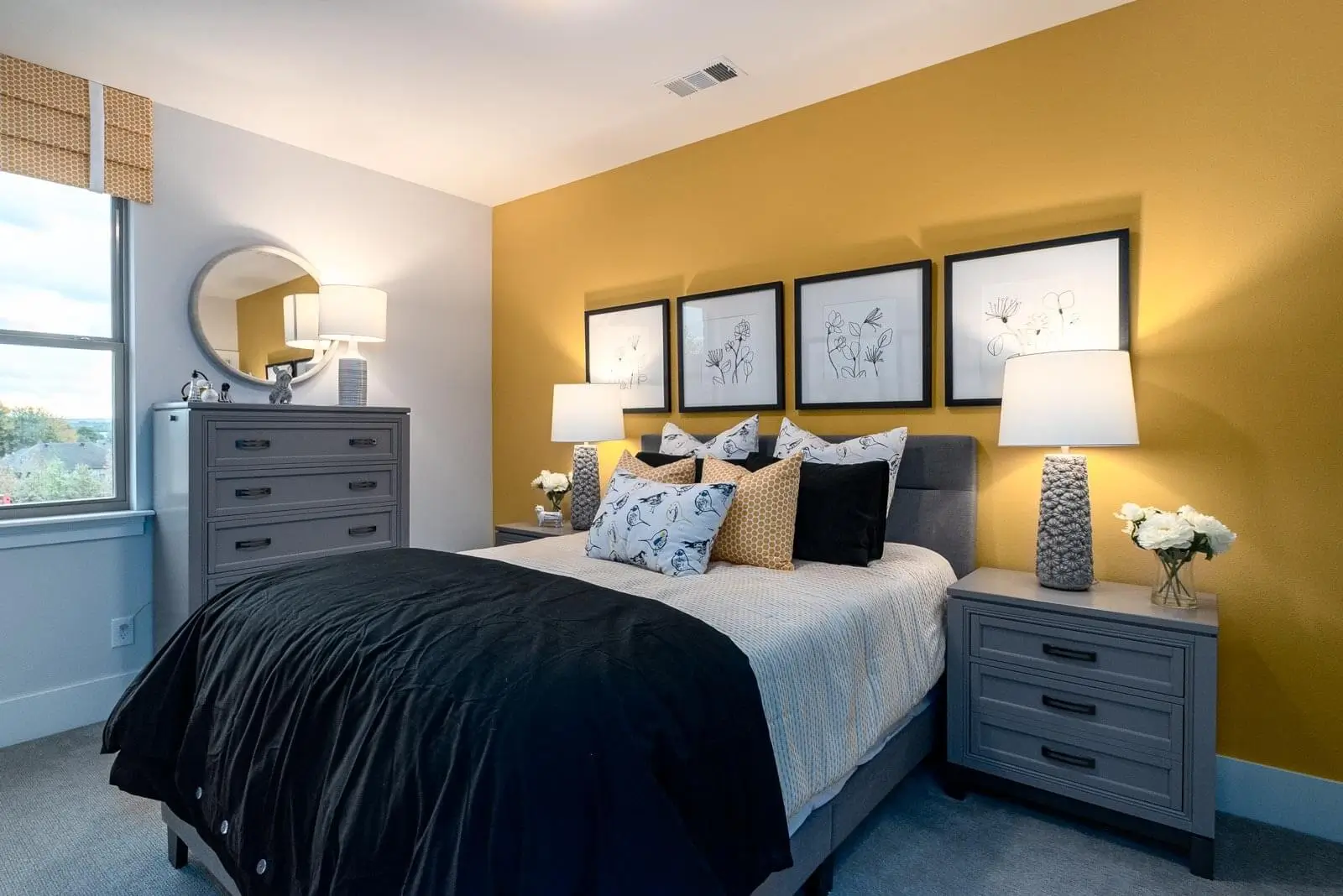 This model home is built with a fourth bedroom upstairs, which is quite spacious. This room includes a private, full bathroom, making it ideal as a guest room or bedroom for older kids.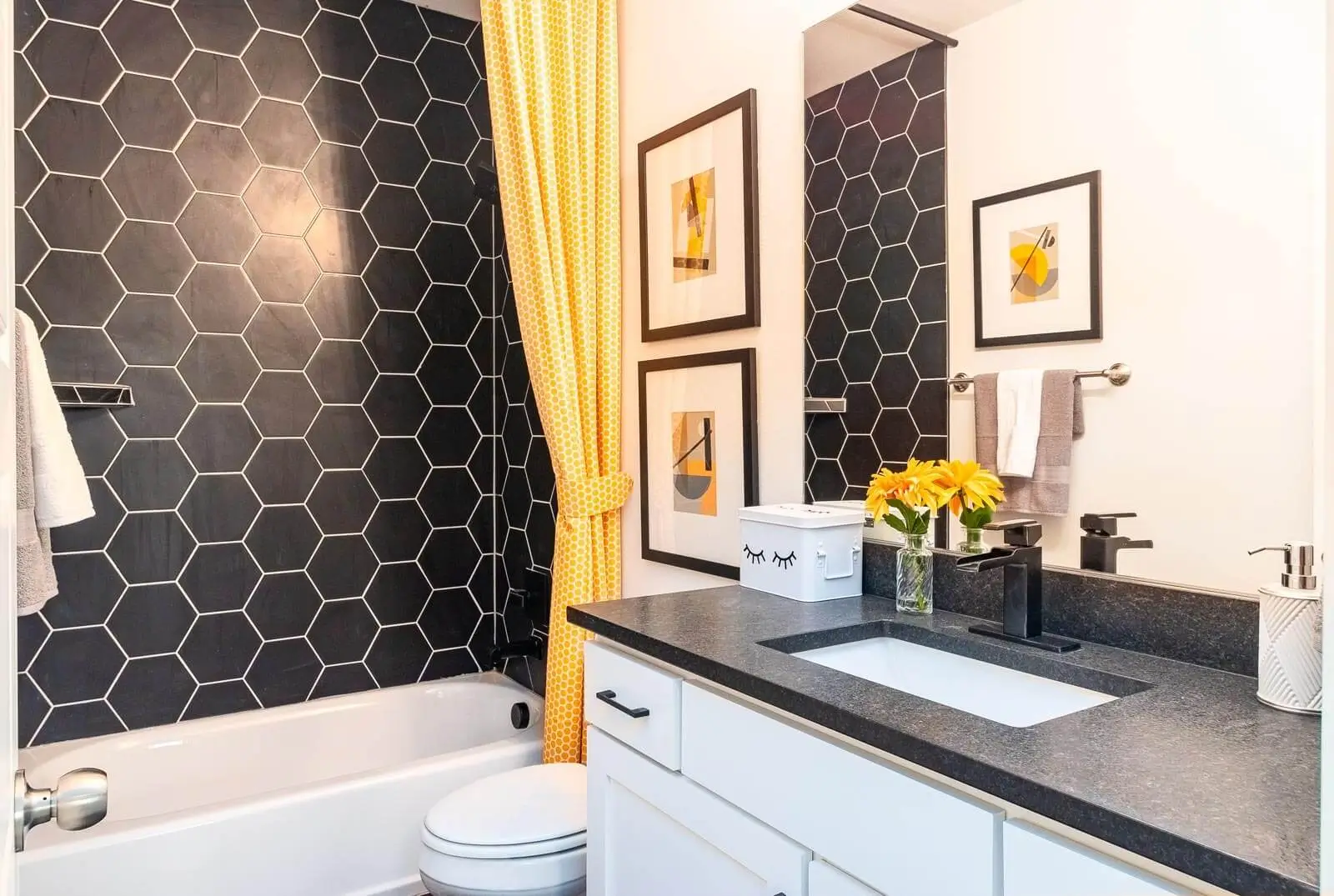 The last room on our tour is the bath that's attached to the fourth bedroom. The tile is a 10-inch Black Beehive, which is a popular choice right now. It's a great way to add patterns to your space. If you're looking for something more subtle, opt for a darker grout. Taking the tile to the ceiling also brings height to the space, making a small space feel larger.
The countertop is brushed black granite to match the other upstairs bathroom, and the faucets are Delta Matte Black Ara, which matches all of the bathrooms in the home. Choosing similar finishes on cabinet hardware and faucets gives a consistent feeling throughout. If you help with design details, we're here to help! We hope you've enjoyed this virtual tour and invite you to visit in person.