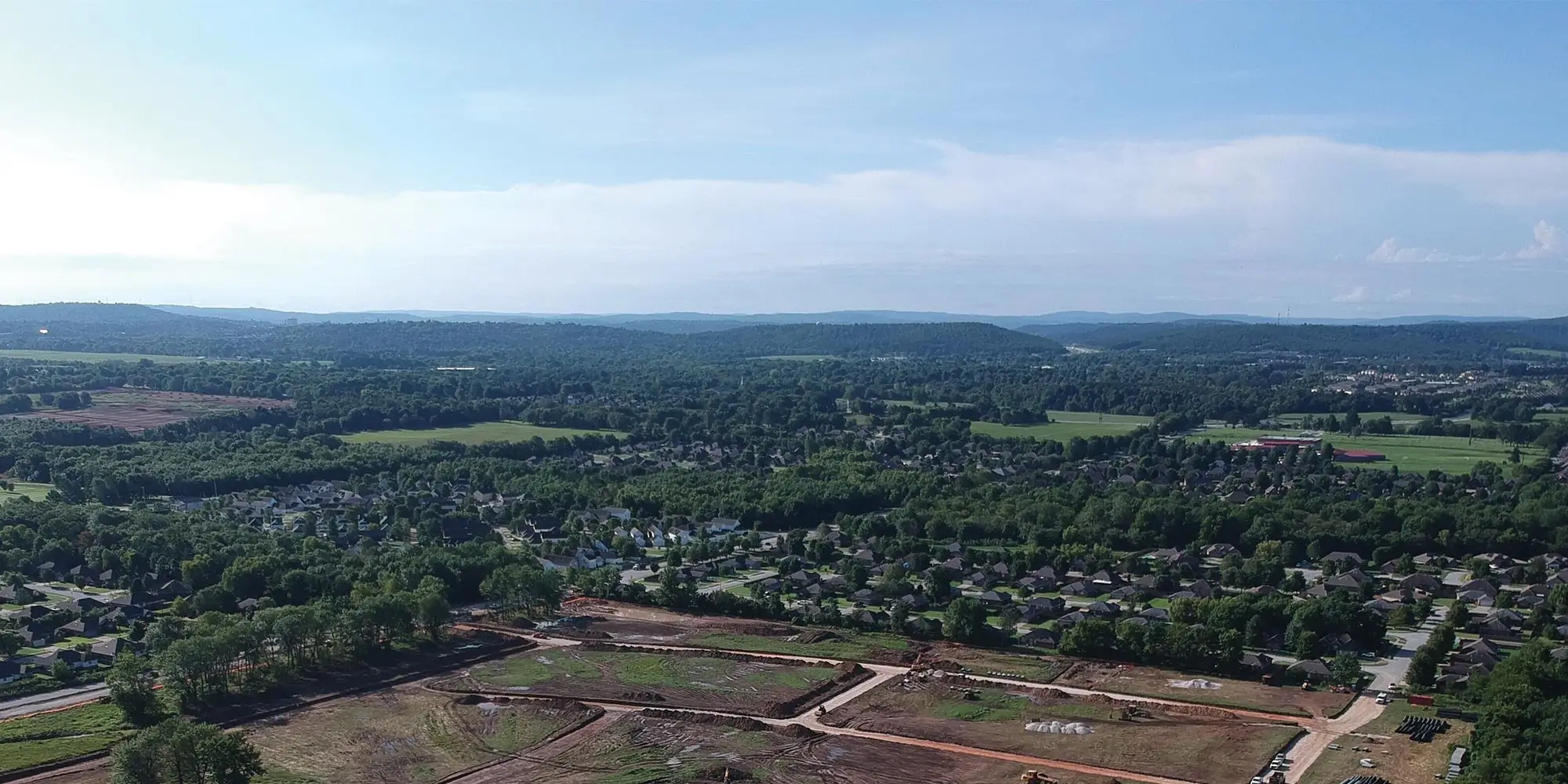 Once you've decided to build a home, one of the first steps is selecting your homesite! There are many things you'll want to consider, and in the typical helpful spirit of Buffington Homes, we're here to guide you every step of the way. This article will cover how to read a plat map, what to look for in a homesite, and why it's beneficial to select a homesite early within a new community.
At this point, you've probably made some decisions in terms of the general location where you'd like to build. This can be relatively easy to narrow down based on where you work, where you want your kids to go to school, and the price range of homes in a community.
With that said, if you're still not sure where in Northwest Arkansas you'd like to build, we suggest starting here. Browse our communities, tour our model homes, and then you can drill down into the details of selecting a homesite – beginning with the plat map.
How to Read a Plat Map
A plat map, also called a "plat," is a neighborhood or community map. It's typically drawn by a civil engineer when a development is first created. It's drawn to scale and shows the boundary locations and nearby streets for context. The term is sometimes confused with "plot," a piece of land used for a single purpose. A way to clarify that is a plat shows the collection of plots that make up an entire community.
To give you a visual reference, here's what a simplified plat looks like for Savannah Estates, our newest community in Rogers.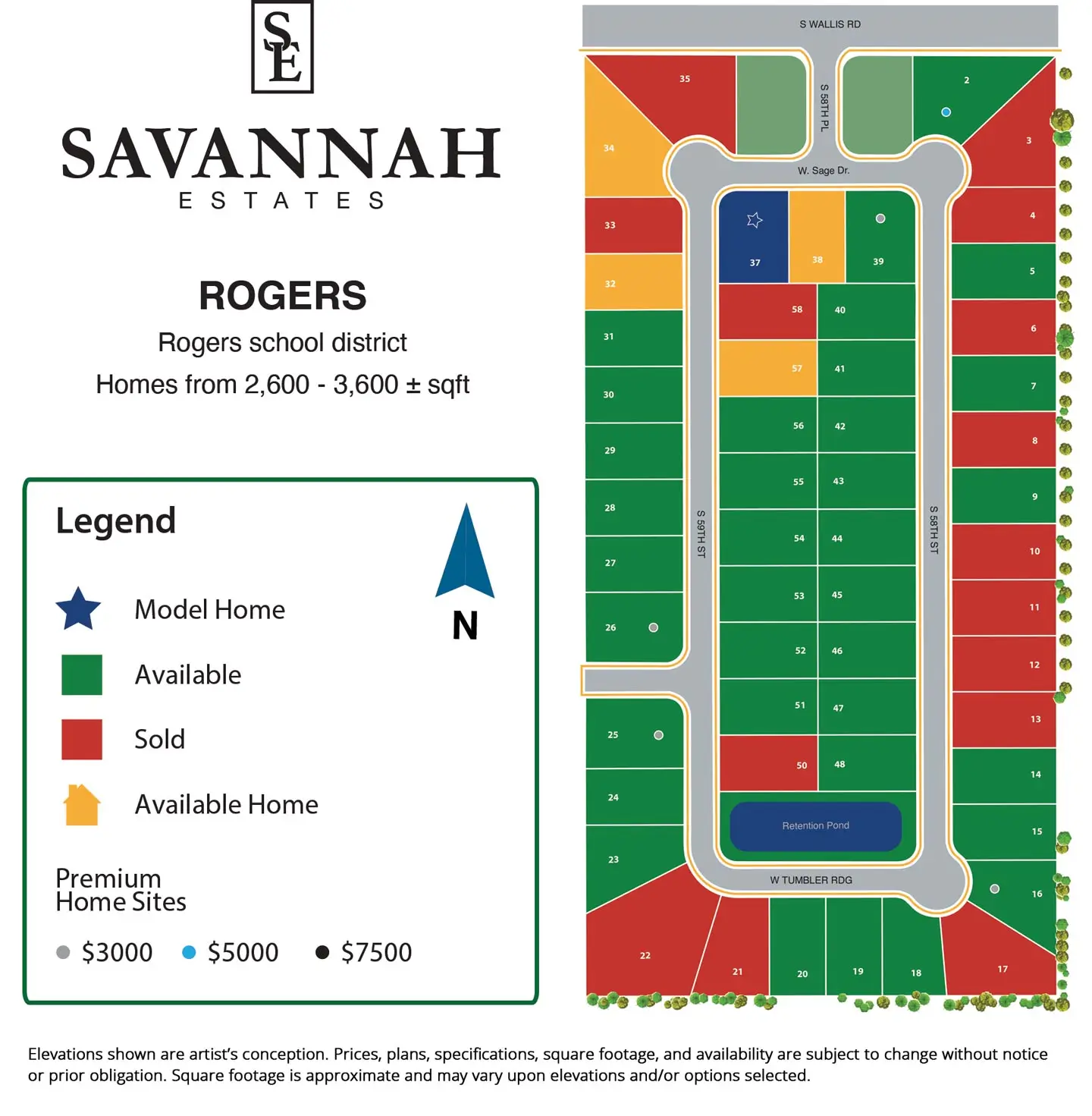 You can see each plot of land is numbered for reference, and the map is color-coded, allowing you to quickly see which homesites are available. We have plat maps available for each of our communities at our model homes as well as online.
These maps are especially useful to visualize the shape of each lot, their proximity to neighbors, and the various ways you can use the land. They also indicate the north, south, east, and west orientation, which can be helpful to know. This leads to our list of things to consider!
Elements to Consider in a Homesite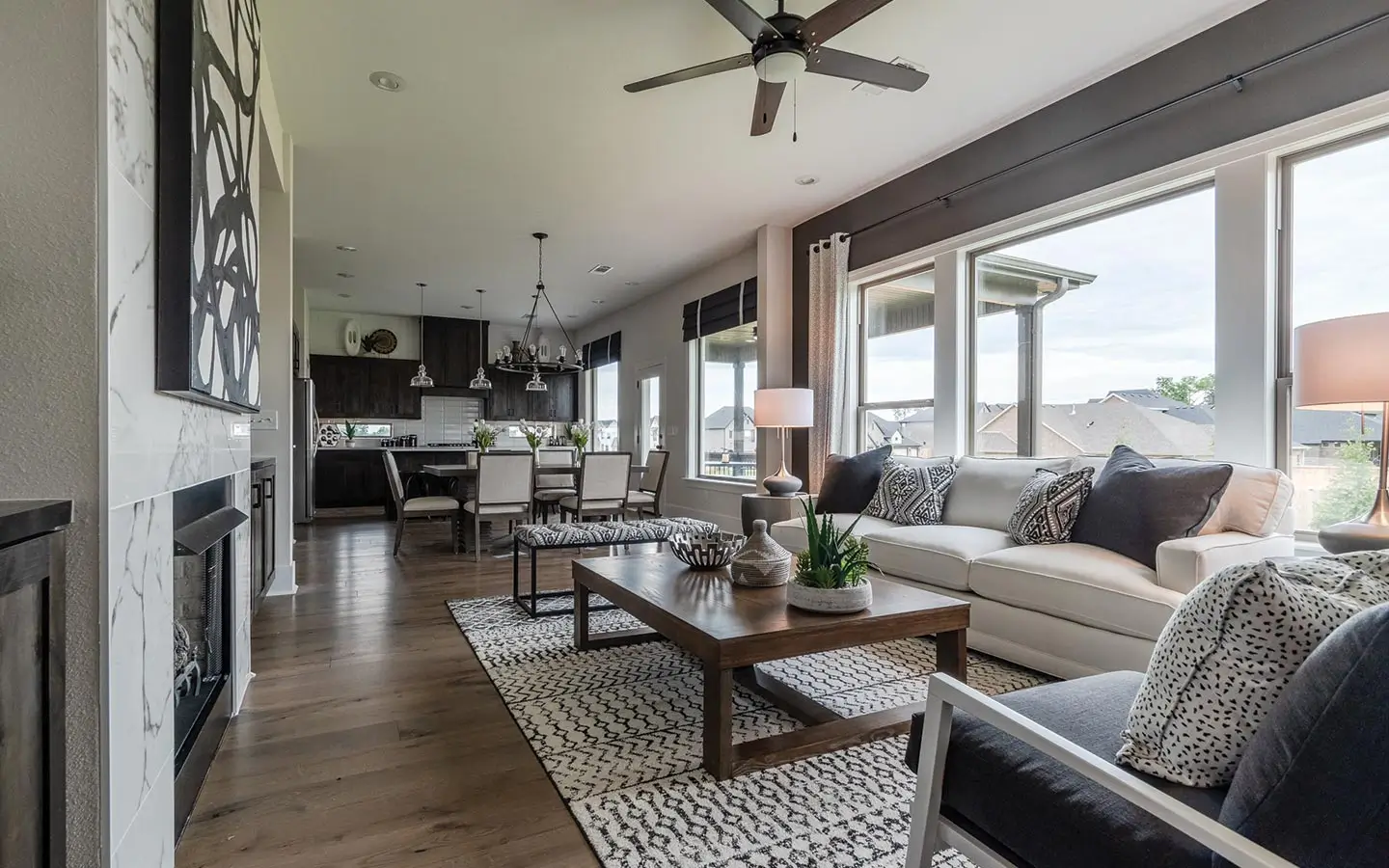 As you're reviewing a plat map and deciding on your homesite, here are a few things to look for:
The orientation of the land. If you've always dreamed of a warm, sunny kitchen or a porch that gets the best sunset views, you'll need to consider the direction your lot faces to help ensure this is possible.
Location within the community. Some homeowners like living close to the entrance, and others prefer a more secluded area in a cul-de-sac. You may also want a corner lot with a bigger yard or a homesite that's closer to a community pool or park. Think about what's best for you and find that ideal spot on the map.
Size and shape.If you'll be adding a private pool or have a particular floor plan in mind, knowing and understanding a homesite's size and shape can be extremely beneficial as you move ahead.
This probably goes without saying, but you'll also want to see the homesite in person before making your final decision. Here are a few other things to consider as you drive around and walk the lot.
Verify the slope. A plat map is a great way to see the shape and size of a lot, but the slope is easier to tell in person. If you'd love to plant a garden, install a pool, or set up a swing for the kids, you'll want to know if the slope will accommodate these plans.
Check out the scenery. While the community might be new and homes are in progress around your potential homesite, you can still get a sense of your surroundings. See what your backyard view might look like and notice anything that could potentially impact your choice of floor plan.
Drive the neighborhood. It's also smart to get a feel for the convenience factor. Drive around and notice how close you are to grocery stores, parks, schools, hospitals, and work. If it's essential to live as close as possible to these places, that could potentially impact which street you choose within a community.
Which Comes First, the Floorplan or the Homesite?
This decision can vary depending on what your "must-haves" include in a home. For example, if you've toured a model home and you fell in love with a specific floor plan, your sales agent can help you determine if that particular footprint will fit on the homesite you have in mind. Many times, the floor plan and homesite are decisions that go hand-in-hand. So, it's a good idea to have a sense of which floor plan you like while you're selecting a homesite.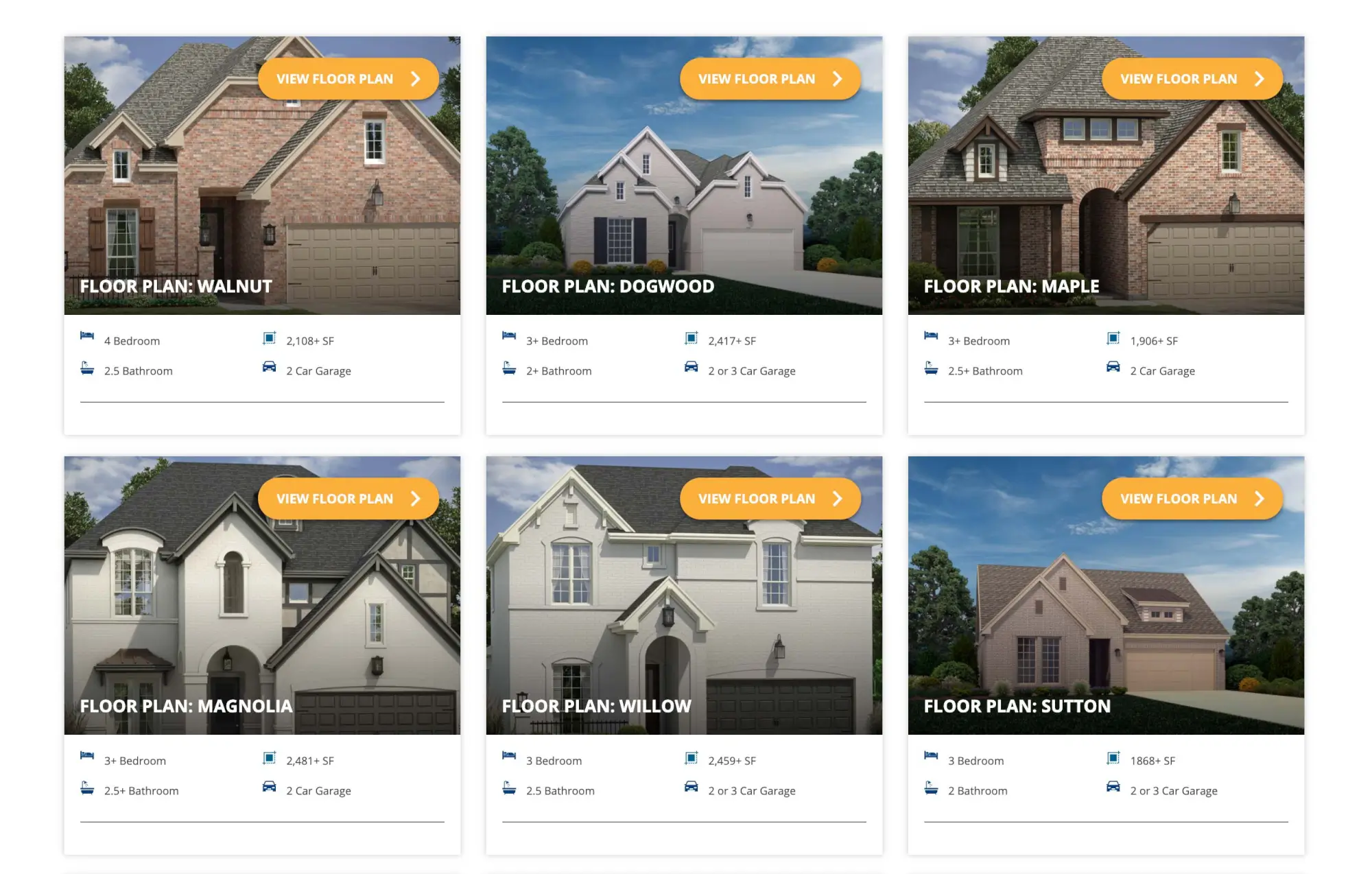 If you'd like to see the full collection of floor plans we offer, you can check them out here. Each of our communities features a specific set of floor plans, so be sure to note which plan is available in the community that interests you most!
Benefits of Buying Early in a Community
Timing can be important when it comes to choosing your homesite. The reason we say that is because the earlier you select a homesite within a community, the more choices you have when it comes to your home exteriors and floor plans. We believe in preserving the integrity of a community by having a variety of floorplans and design styles located throughout. We do this by ensuring the elevation, brick, stone, and color options are different from the homes directly next door and across the street. So, there's an incentive to build early. And if you're ready to build now, we have several communities still in the early phases, with additional phases being added soon. You can explore some of your options here.
If you happen to be building in a more established community, you can still have the home you've always wanted. When you check the homesite in person, be sure to take notes on the elevations and exteriors that are already in place. This could help you decide on the lot that's perfect for you.
Where Do You Go From Here?
One of our best pieces of advice is to start with the end in mind. Visualize your new home and how you see yourself living there. Do you adore a specific floor plan that faces a particular direction? Is your heart set on an exterior color? Do you need a bigger backyard to accommodate your hobbies and interests? Write down these details and bring them when you're shopping for your homesite. Our sales agents are also available to guide you through these details. Ultimately, we want to help you build a life you love, and that begins by finding just the right spot to call home!