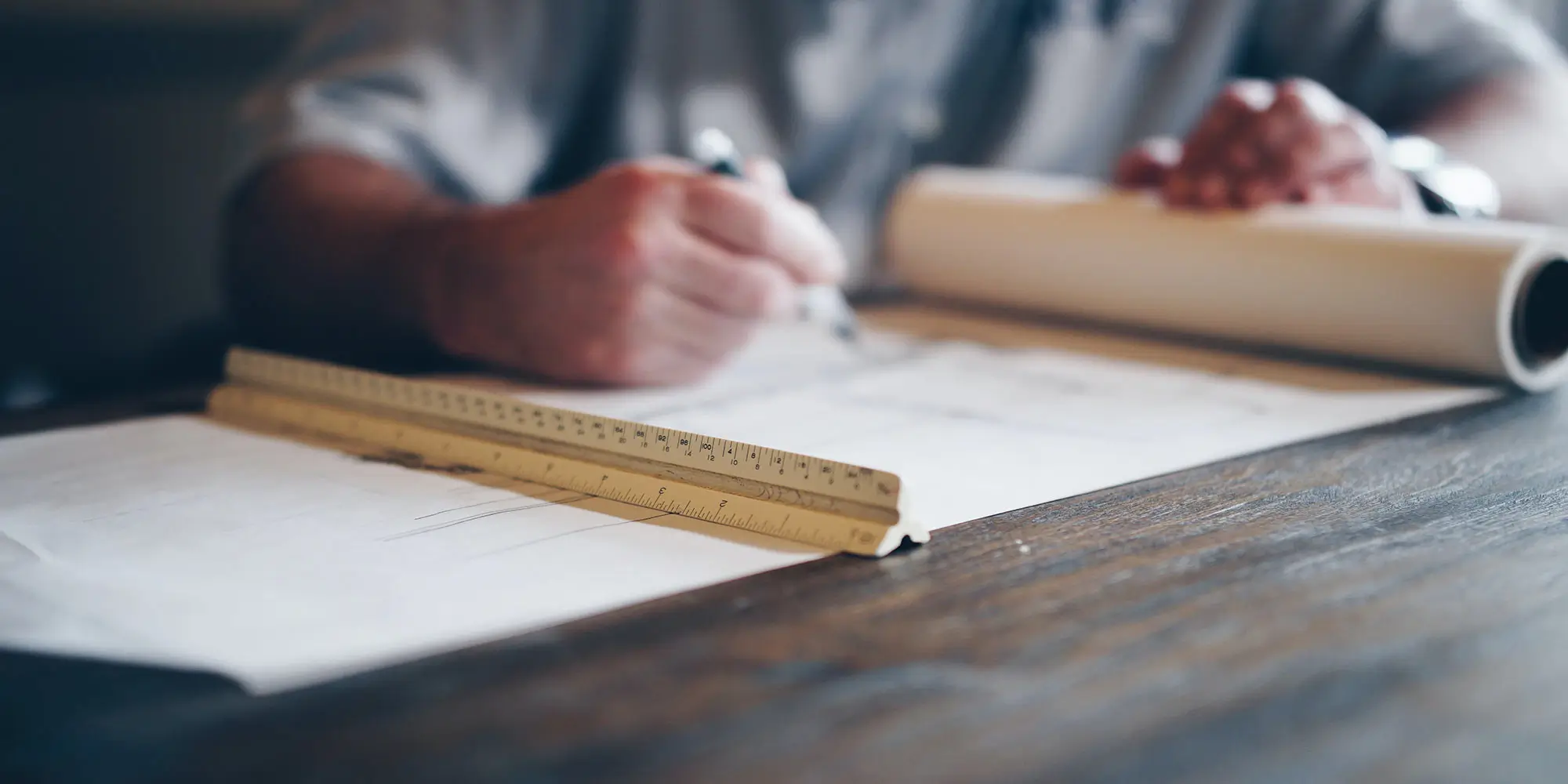 Before we dive into the details of a preconstruction meeting, let's talk about what it is in the first place! At Buffington Homes, the preconstruction meeting takes place before any construction begins. It's a chance for homeowners and their superintendent to meet each other, talk through the details of their home, and outline expectations. Some builders schedule their preconstruction meeting after the framing occurs, but we prefer to communicate early and often and establish a working relationship before we officially break ground.
Now, let's talk details. The preconstruction meeting is such an important step; we thought it would help to dig in a bit further. Below we've outlined a few things you can expect at this stage and how to arrive prepared and ready to move ahead.

It's important to note that the preconstruction meeting isn't the very first step in our home building process. It's actually the second milestone you'll reach. The first step includes two design appointments where our professional designers help you select a floorplan, home features, and all of the design elements of your home, such as exteriors, paint colors, flooring, cabinets, and more. Once these details are mapped out, then we schedule the preconstruction meeting.
To kick off your meeting, you'll review the plot plan for your home. This shows the sighting of the home or the placement of the home on your lot, as well as your home's orientation. Three key factors we take into account are building setbacks, easement, and grading, which refers to the ground elevation. Setting the proper grade with slopes and drainage swells will ensure water drains away from your home properly. Your plan will also indicate where concrete work such as driveways, sidewalks, and air conditioning pads are located.

Next, you'll review the blueprints of the floorplan you selected. This will include any "extras" you may have added, such as bump-outs, additional bedrooms, covered patio, extra garage space, etc.

After you've reviewed your plans, you'll walk through all of the selections from your design appointments. You'll also discuss the standard features that come with your home, such as the water heater, insulation, AC, and furnace. If you requested any non-standard upgrades, this is a good time to make sure your superintendent knows exactly what you're expecting by means of structural options and verifying electrical and selected upgrades. It's better for everyone to be on the same page from the beginning.
The purpose of this meeting is to finalize the details, which means now is the time to bring attention to something that doesn't reflect what you had envisioned.

We want your home building experience to be as smooth as possible from initial contract to close. The best way to do that is to discuss expectations upfront. With this in mind, your superintendent will explain the building process, share an estimated timeline, and outline everyone's responsibilities, including yours.
He'll also talk about how we track our progress and keep you informed along the way. Building a home requires several trade partners and craftsmen to produce the final product, and each person depends on another to finish their task to move to the next phase. Since there are so many moving parts, and the timing of each stage varies quite a bit, we use an electronic Milestone Tracker. As your home reaches each of our 14 key milestones, we send you an email explaining what's happening at your site during this phase, things to keep in mind, and tips for a great experience!

During the home building process, there may be times when you feel anxious about how things are moving along. Know that your superintendent is always working to keep things moving as quickly, correctly, and safely as possible. He wants you to have a good experience, so feel free to reach out and ask questions.
Speaking of questions, your preconstruction meeting is the perfect time to ask away. Here are a few to consider if they haven't been covered in the steps above:
Communications
What is the best way to contact you?
Will we have scheduled checkpoints along the way?
When are good times to visit the site, and who do we contact?
Interior Details
What are the dimensions of the refrigerator insert?
Will we have a tank or tankless water heater?
What sort of warranties is on our fixtures and home overall?
Will you install towel bars and mirrors in all of the bathrooms?
What type of windows will we have, and will they have screens?
Do we get to keep any of the leftover paint for touchups?
Exterior Details
What are the dimensions of the covered patio?
Are there outlets for a TV or string lights?
Will there be any trees or grass planted before we move in?
What are the dimensions of our backyard?
How many hose bibs will we have, and where are they located?

To wrap things up, here's an outline of things to keep in mind, as well as a few tips to make your preconstruction meeting a great experience.
Timing: This meeting can last anywhere from 1-2 hours. Plan your schedule accordingly so you can feel more relaxed and take your time combing through the details.
Electrical Needs: During this meeting, you'll talk about all of your current and future electrical needs to ensure proper planning is in place. With this in mind, here are a few questions to ask yourself beforehand: Do you want a television on your patio? Do you plan to hang exterior Christmas lights? Do you want the jacuzzi prewiring? Do you need extra outlets on your kitchen island? Do you need special wiring or outlets in a playroom or bonus room?
Construction Safety: Your safety is always a priority during the entire build process. During your preconstruction meeting, you will review and sign a safety procedure document. You'll also discuss the process for scheduling a site visit, which entails checking in at the model home of your community, getting protective gear, and then walking through your home with a Buffington employee.

Refresh Your Memory: A large portion of this meeting is spent reviewing and verifying all of the options you've selected for your home. This includes your lot location, floor plan, and each of the beautiful selections you made in your design appointments. Be sure to review all of this information before your meeting so you feel confident that you're signing off on the right items.
Arrive with Questions: This meeting truly is a wonderful opportunity to meet your superintendent and ask questions about the process and timeline. Take some time to review the questions above and add anything to the list that's on your mind.
Take Good Notes: Bring a pen and paper to take notes as you go through the meeting. You can also use your phone to take photos of the blueprints. Some homeowners find it helpful to jot down each room's dimensions so they can begin to think about their furnishings.
Start a Journal: Building a home is an exciting experience filled with many emotions. We encourage you to journal throughout your journey and take photos. The preconstruction meeting signals the beginning of your build, so it's a perfect time to pause and write down a few thoughts, so you'll always remember what a special time this is!
We hope this outline was helpful. If you have further questions about our preconstruction meetings or want to know more about Buffington Homes, we're here for you. If you're still looking for the perfect place to call home, have fun exploring our communities. We'd be honored to help you build a life you'll love.