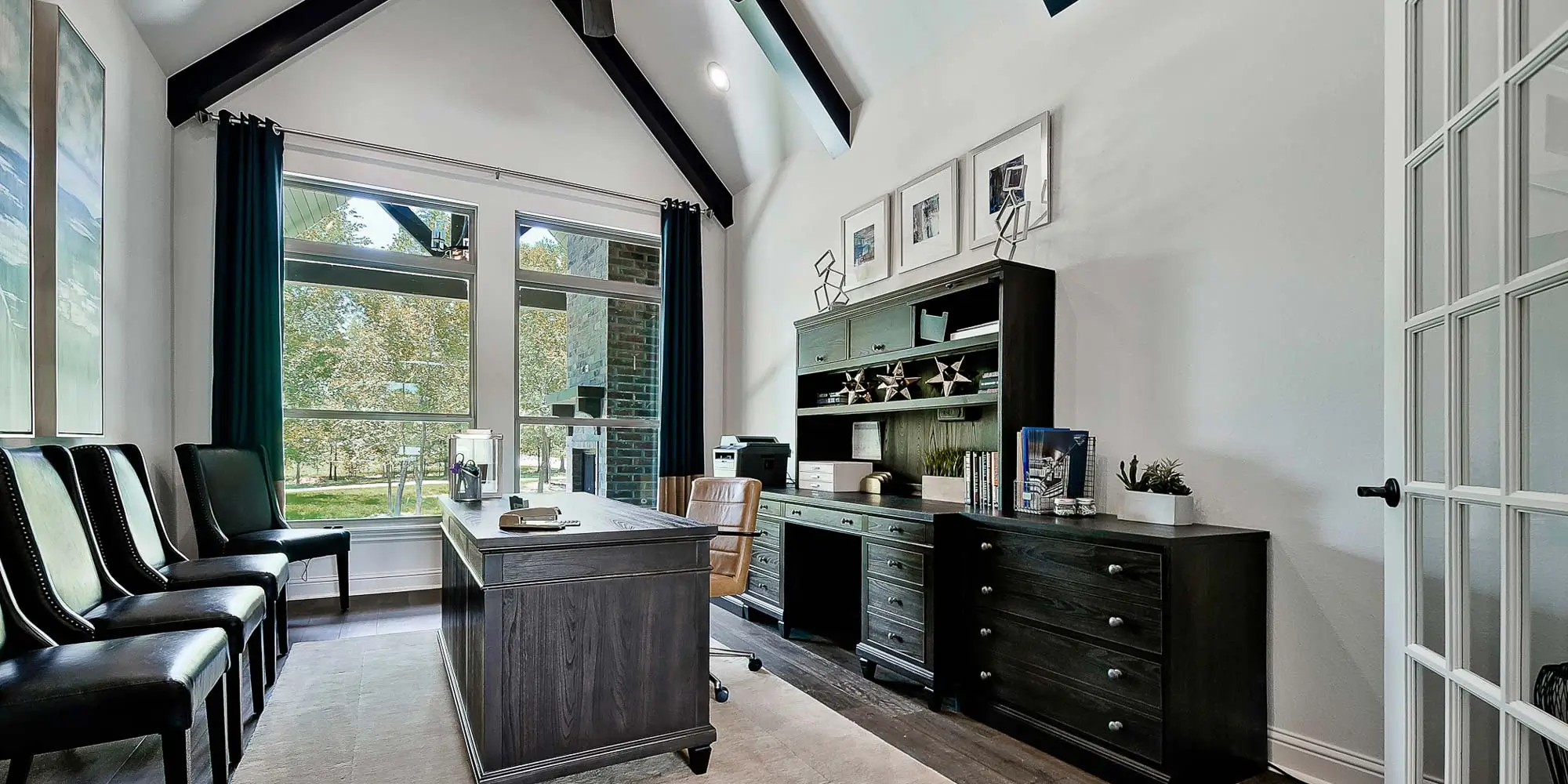 As most of us are still working and schooling from home these days, it has become more critical than ever to have a home office or study space that allows us to be productive. Whether that space is a separate room in the house or a makeshift closet in the guest room, there are ways to make it work.
In fact, we're here with a collection of terrific tips. We want to help you curate an office that's both inspiring and efficient – even if your daily commute is just a few steps across the living room.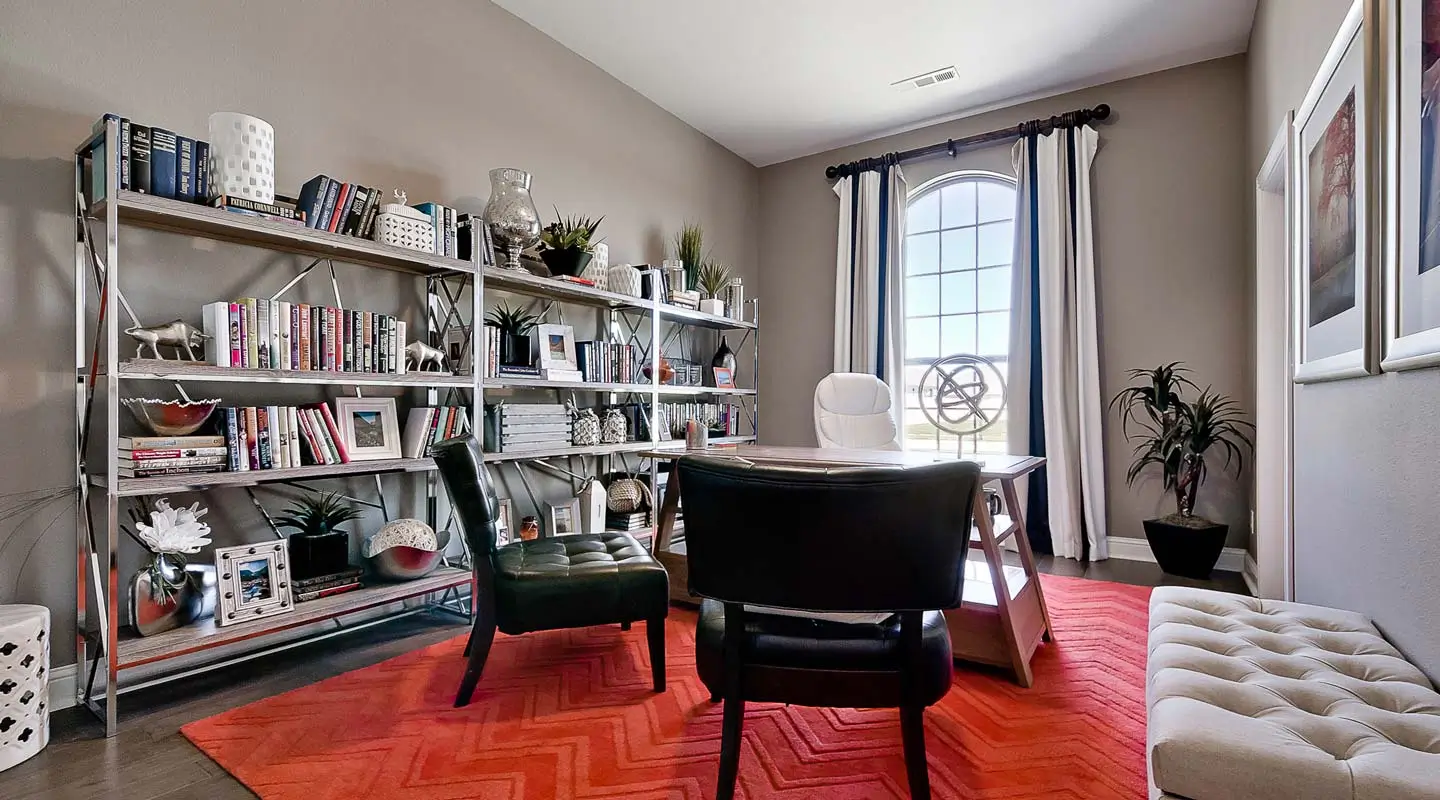 Have A Dedicated Space
For starters, designate a spot in your home just for working. If you have an office, that's perfect. A home office not only gives you a place to focus, but also allows you to walk away, close the door, and compartmentalize your life a little easier at the end of the day. If that's not the situation in your current home, not to worry. Choose a location in a quiet corner to limit distractions. Being in a low-traffic area also gives you more privacy for conference calls.
When it comes to size, just make sure there's enough room to have everything you need within arm's reach. If you usually work with a laptop, monitor, lamp, day planner, and a cup of coffee nearby, then create a space that accommodates all of these essentials. This will limit your frustration, not to mention trips all over the house.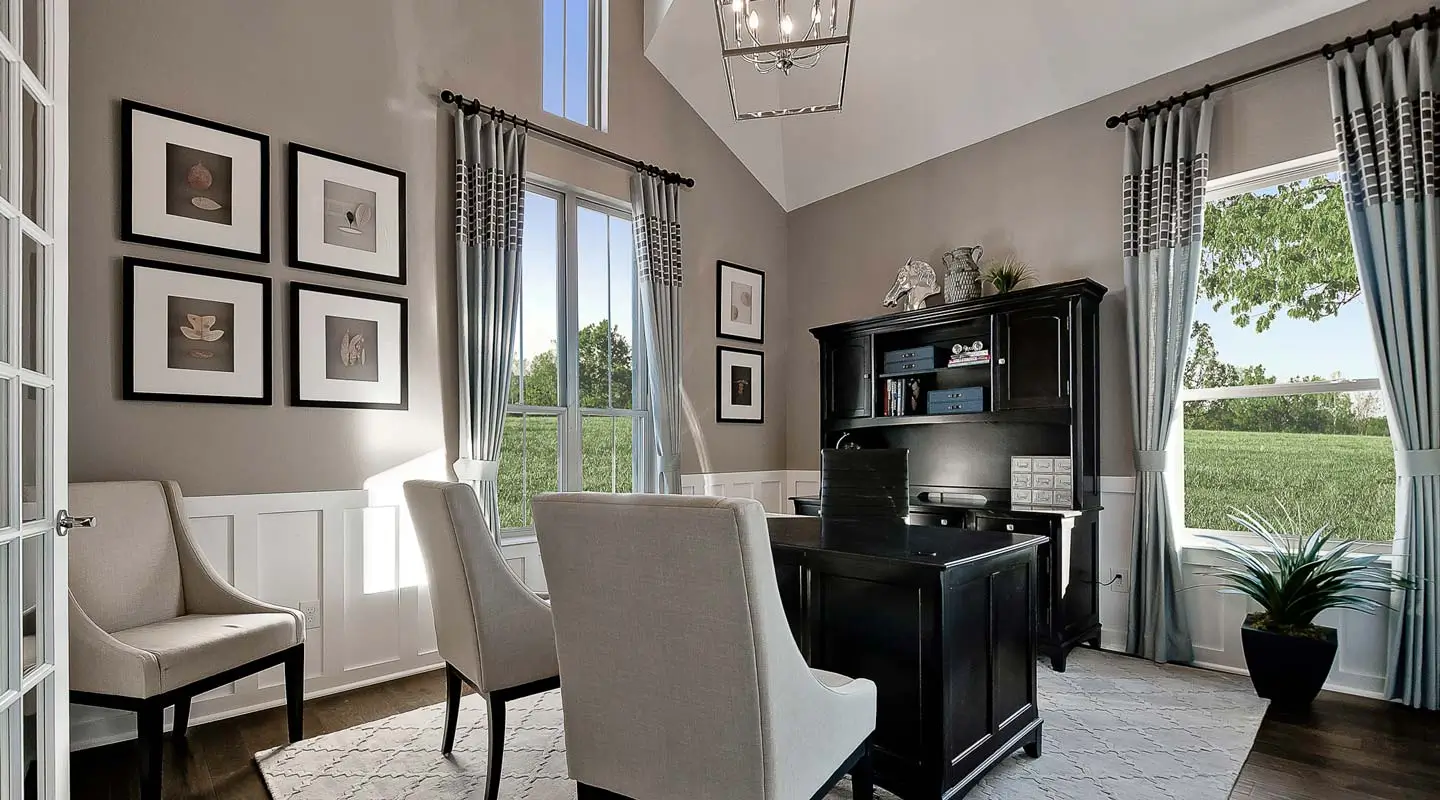 If you have kids at home, remember to give them space, too! Set up a corner in their bedroom or help them create a go-to reading nook in the living room that's just for them. Let them organize and decorate it, so they feel a sense of ownership. Then when it's time to get to work, everyone has a happy and productive place to go.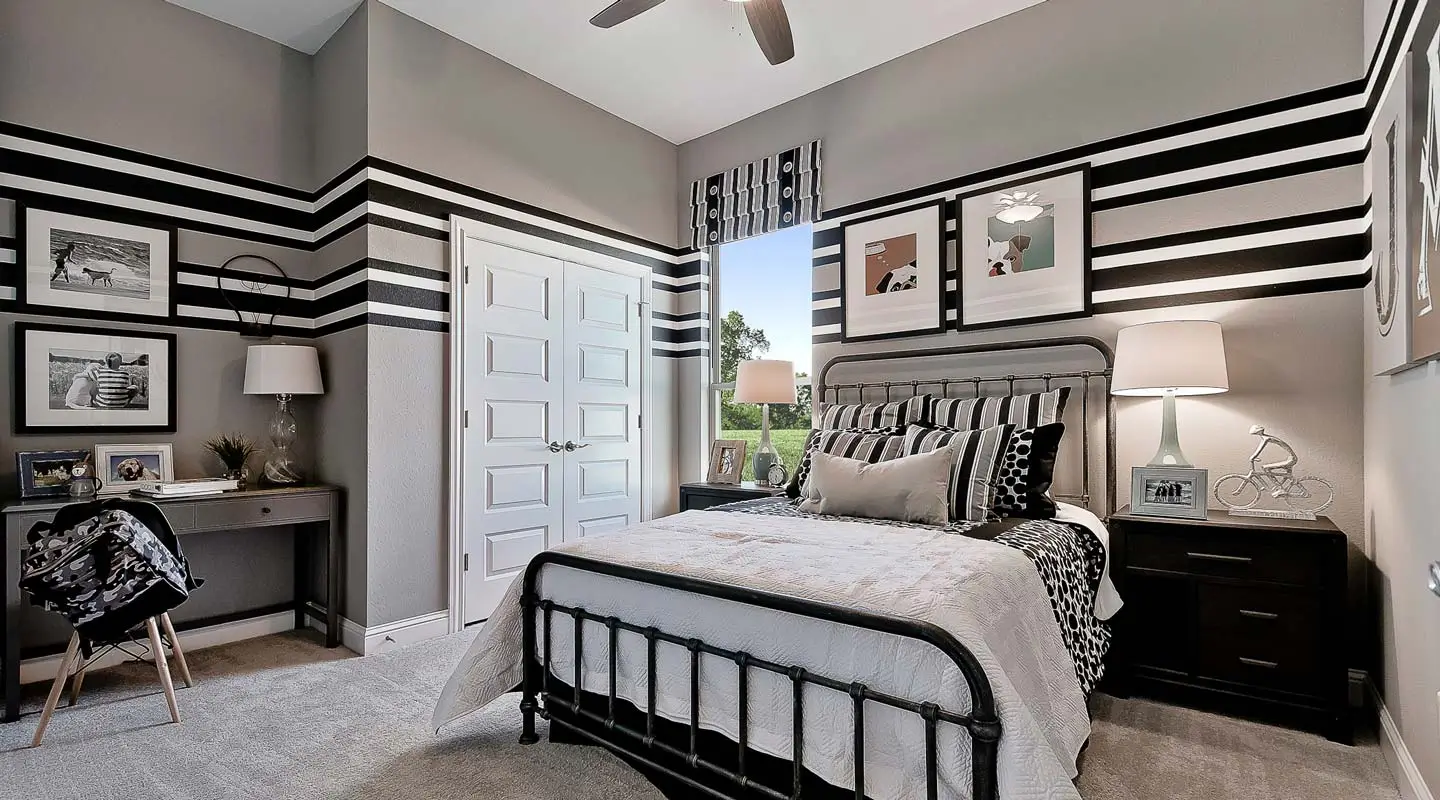 Decorate with Purpose
Perhaps one of the best things about setting up shop at home is you have more freedom in how you decorate. You get to choose everything from the chair you sit in, to the color of your walls – without approval from an office manager. You get to be the boss!
One way to decorate with intention is to surround yourself with the right color. Green is supposed to be great for boosting productivity. Yellow is known to inspire creativity. Red invokes a sense of energy. And, blue has a calming effect on many people. These would make great wall colors, but if you don't want to invest that heavily, select pieces of art, area rugs, or office supplies that add the right amount of color to your life.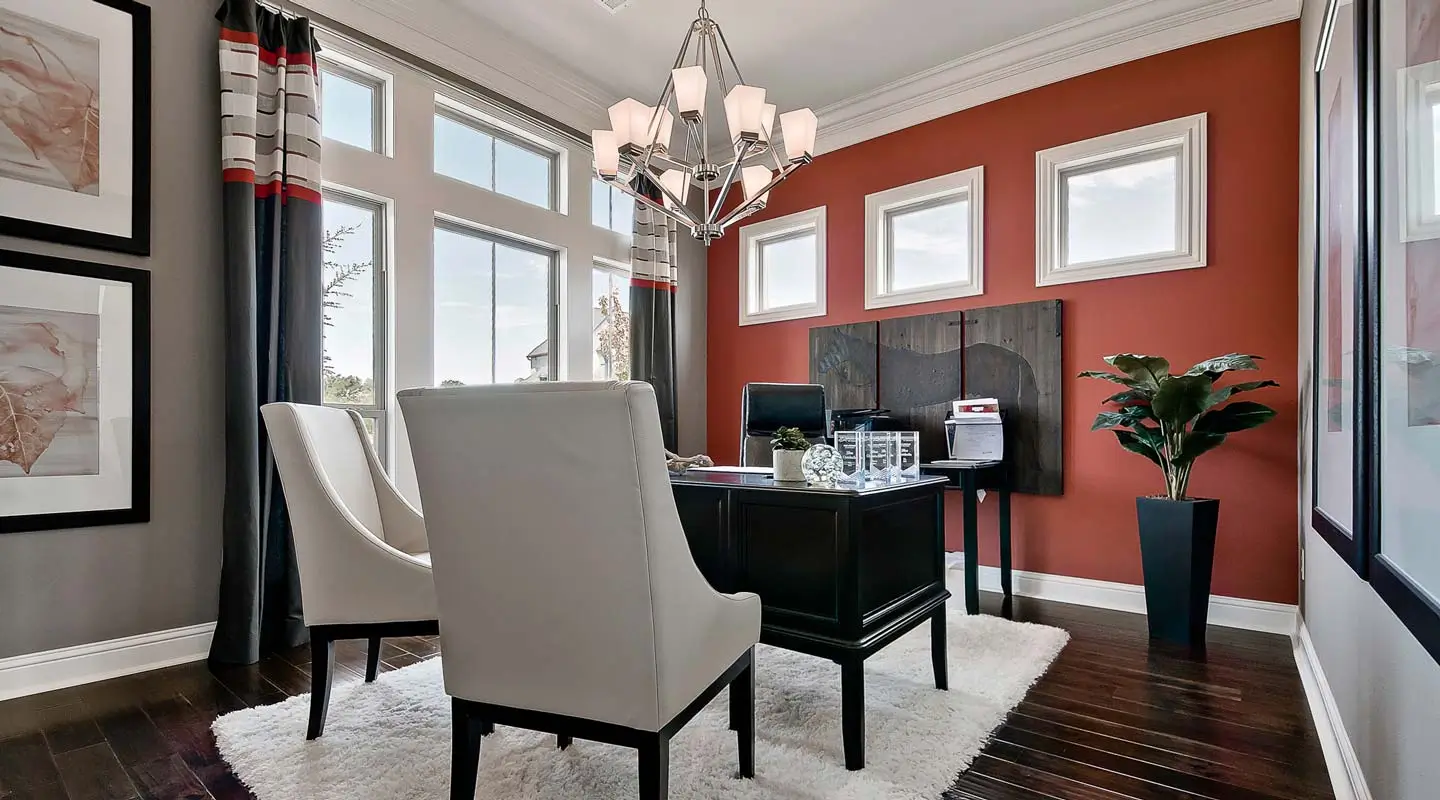 It can also help to add natural elements, such as plants, to give yourself something non-distracting and peaceful to look at between emails and Zoom calls. Speaking of video chats, consider the space directly behind you. This is your backdrop, so stage it in a way that looks professional. The easiest thing might be to remove items and create a blank canvas. You could also add a piece of art, position a bookshelf, or hang a fresh succulent to give off a casual, yet chic vibe. Again, you get to decide exactly how everything looks and feels.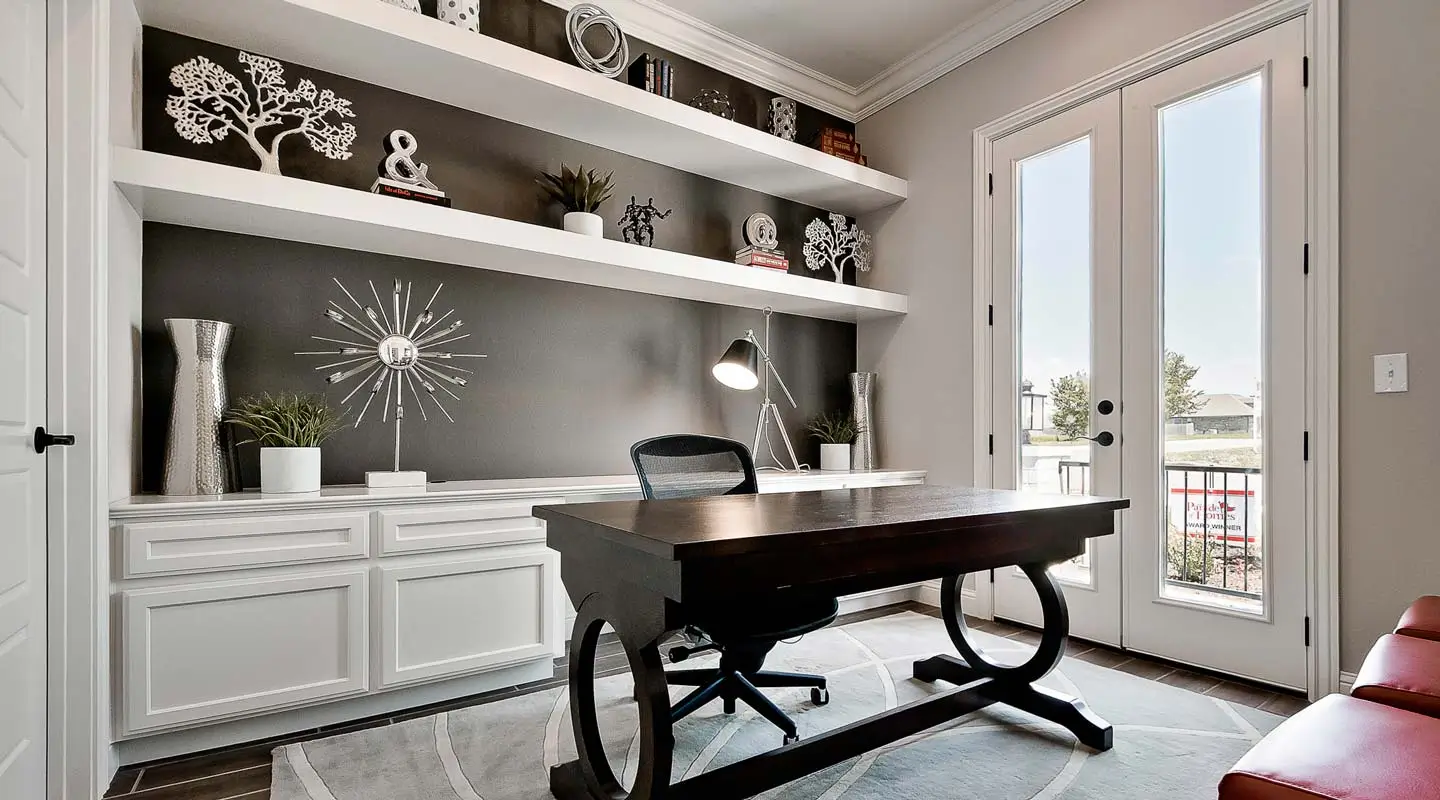 Prioritize Comfort
It can be tempting to just grab a chair from the kitchen when you're working from home, but sitting at a desk for long hours without the right support is a fast-track to back pain and posture problems. Look into getting an ergonomic office chair or a desk that allows you to stand occasionally to help with your overall health and comfort. Just like the rest of your home, investing in good furniture is an investment in yourself.
In addition to having the right chair, you also want to be sure your desk is the right height and your computer sits at a perfect distance. Here's a quick article that offers guidelines in this area.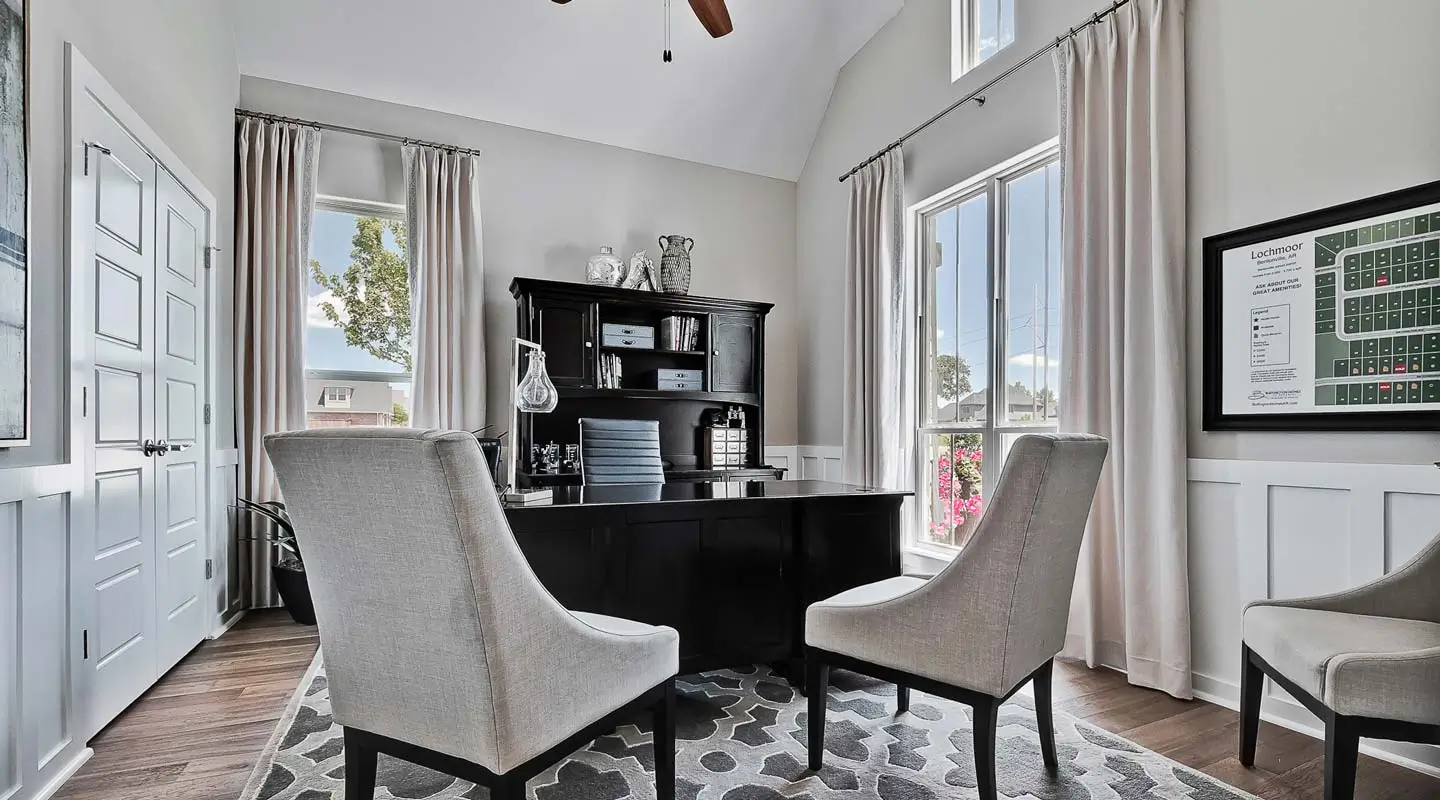 Light It Up
Lighting is often overlooked when setting up a home office, yet it's incredibly important. Yes, you have light from your computer, but when there's poor lighting above and around your space, it can cause eye strain. Over time, that strain can cause headaches and ultimately get in the way of your productivity.
While artificial light from overhead fixtures or table lamps is undoubtedly beneficial, try to set up your office space where you have as much natural light as possible. This type of lighting is easier on your eyes and does wonders for your mental state. It can boost your mood, and in turn, your desire to get more accomplished.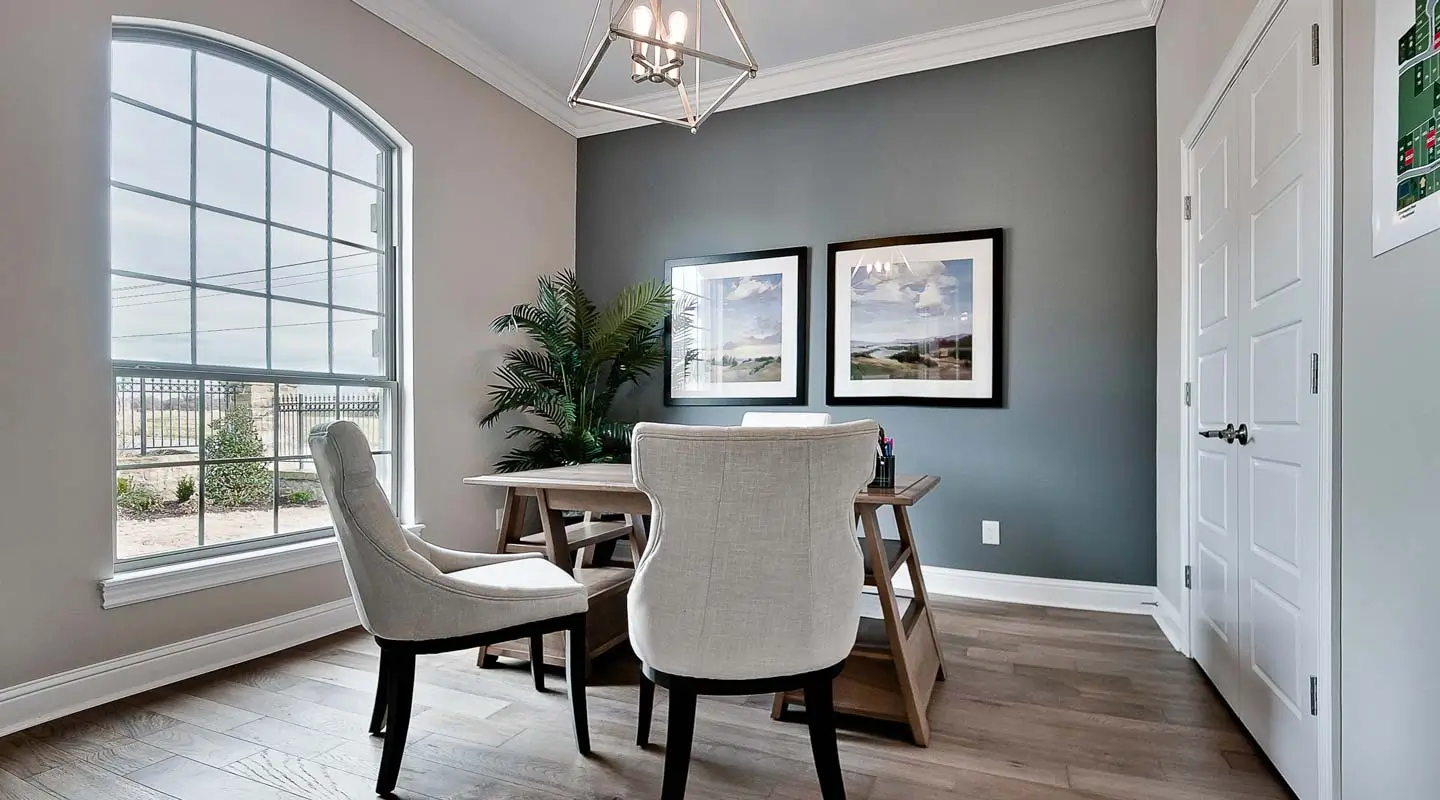 Establish Good Habits
Once you've designated a special spot in the house and have it well-decorated and filled with the right furnishings, the only thing left is to establish good habits. For one, resist the urge to use your sacred workspace as storage. Don't let this become a collection zone for piles of papers or boxes of holiday decor. Also, keep the items on your desk to a minimum. That makes it easier to clear it off at the end of the day and allows you to have a genuinely fresh start when you return!
During the day, remember to give yourself breaks. Set your timer if you have to. Rest your eyes, stretch your legs, feed your belly, and freshen up that glass of water (or reheat your coffee for the third time, if we're being honest.) Whatever it takes to get your body moving and practice some self-care, do it. There's a quote that says, "Self-care is giving the world the best of you, instead of what's left of you." And right now, the world needs the best of all of us!
For more ideas on a perfectly productive workspace, follow us on Pinterest! And if you're ready to build a life you love, complete with a dreamy home office, head right this way!