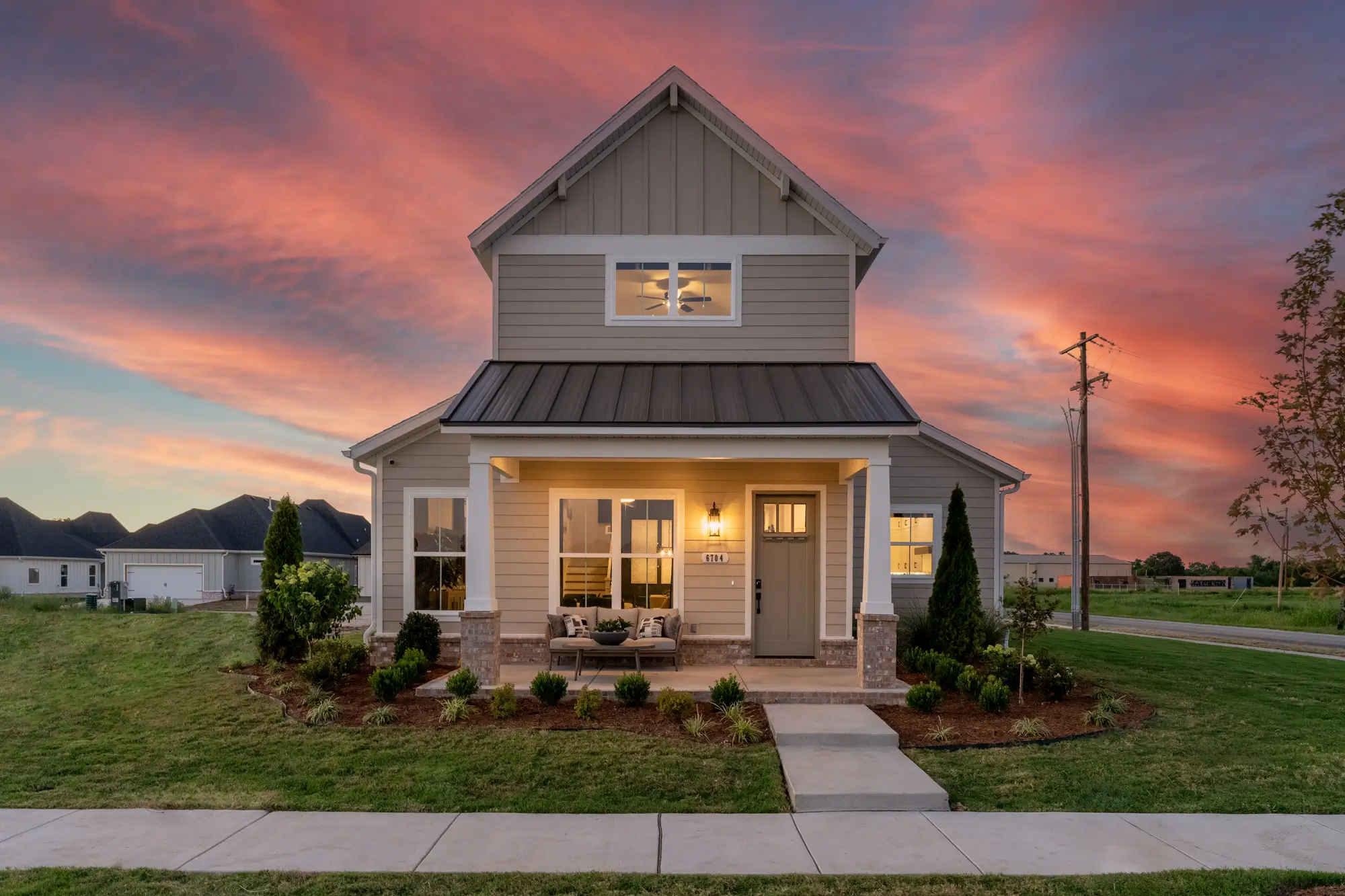 Nestled in the northwest corner of Springdale is Buffington Homes' newest haven - Cottages at the Park. This blossoming community offers the perfect blend of beachy vibes and cottage-style living, making it a serene retreat in the midst of Northwest Arkansas's growing urban ambiance.
Today, we're taking you on a virtual stroll through our model home, which features the Dahlia floor plan. It's the perfect blend of modern functionality and timeless elegance. Let's step inside…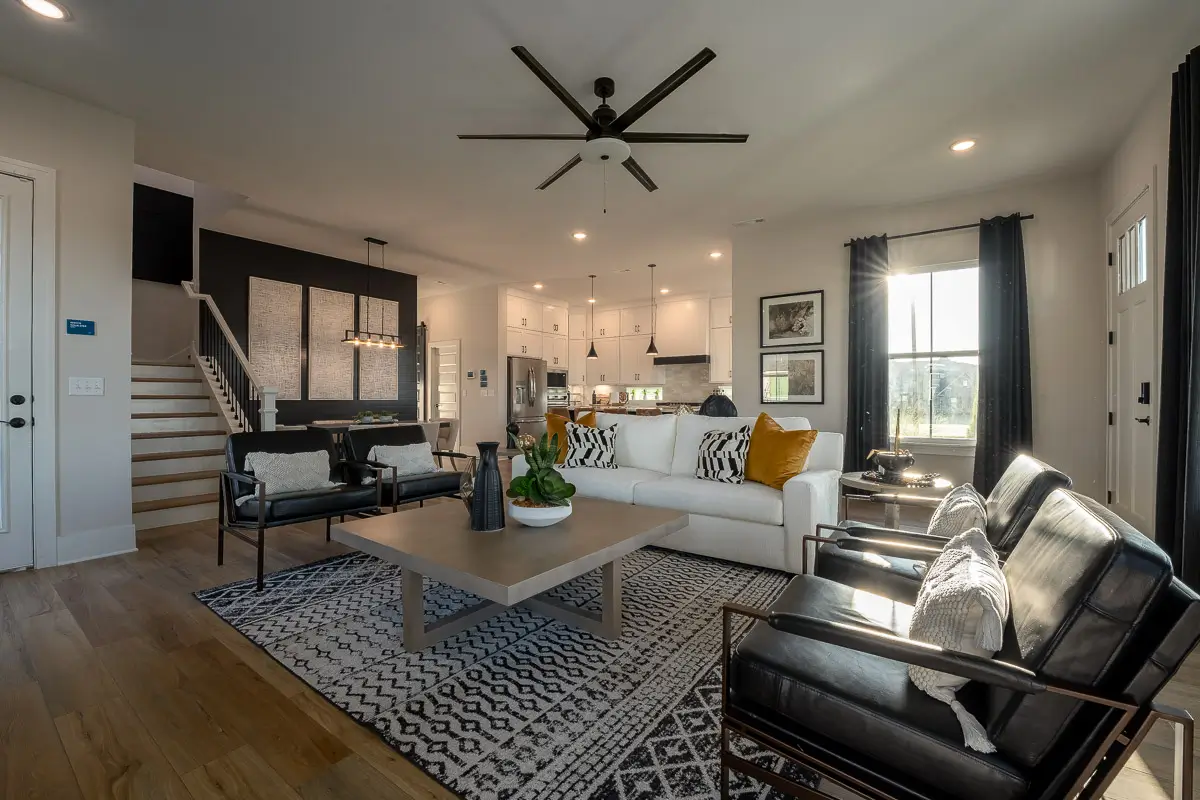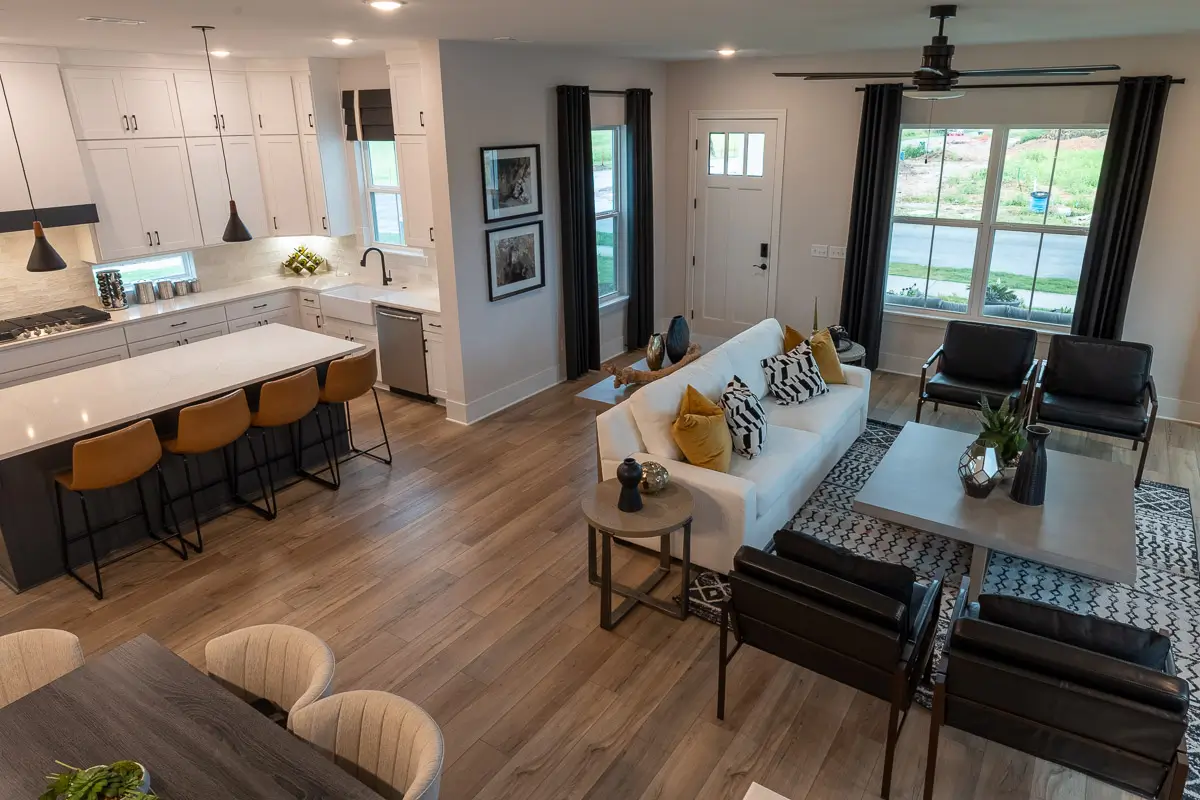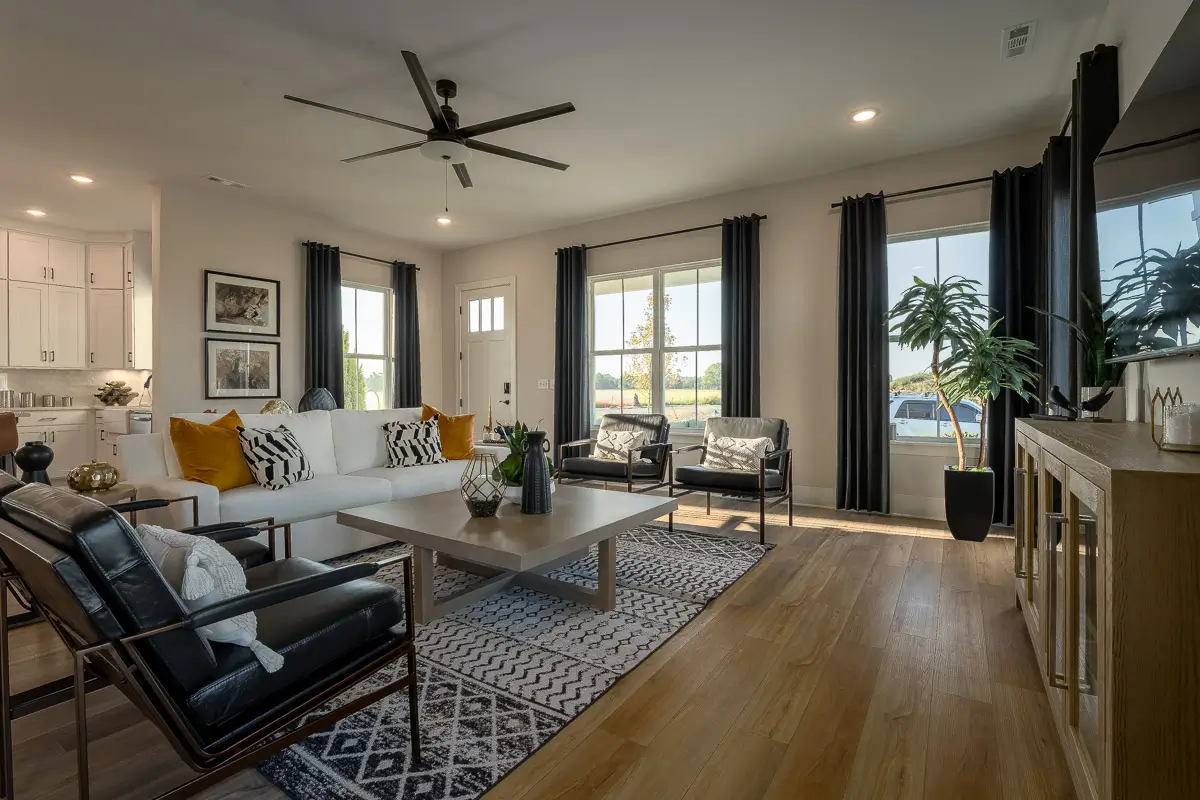 The first thing that captures your heart is the expansive open floor plan, bathed in an abundance of natural light. Imagine waking up every morning, the golden sun rays gently pouring in, illuminating the interiors in a soft glow.
With a generous size of 2,500 square feet and priced in the $500s, this home is a haven for couples or families looking for space with a touch of sophistication. The open plan seamlessly integrates the living room, dining room, and kitchen, making it a dream for entertaining.
Design feature to note: The flooring is Luxury Vinyl Plank (LVP), which is a material that's growing in popularity due to its elegant style and durability.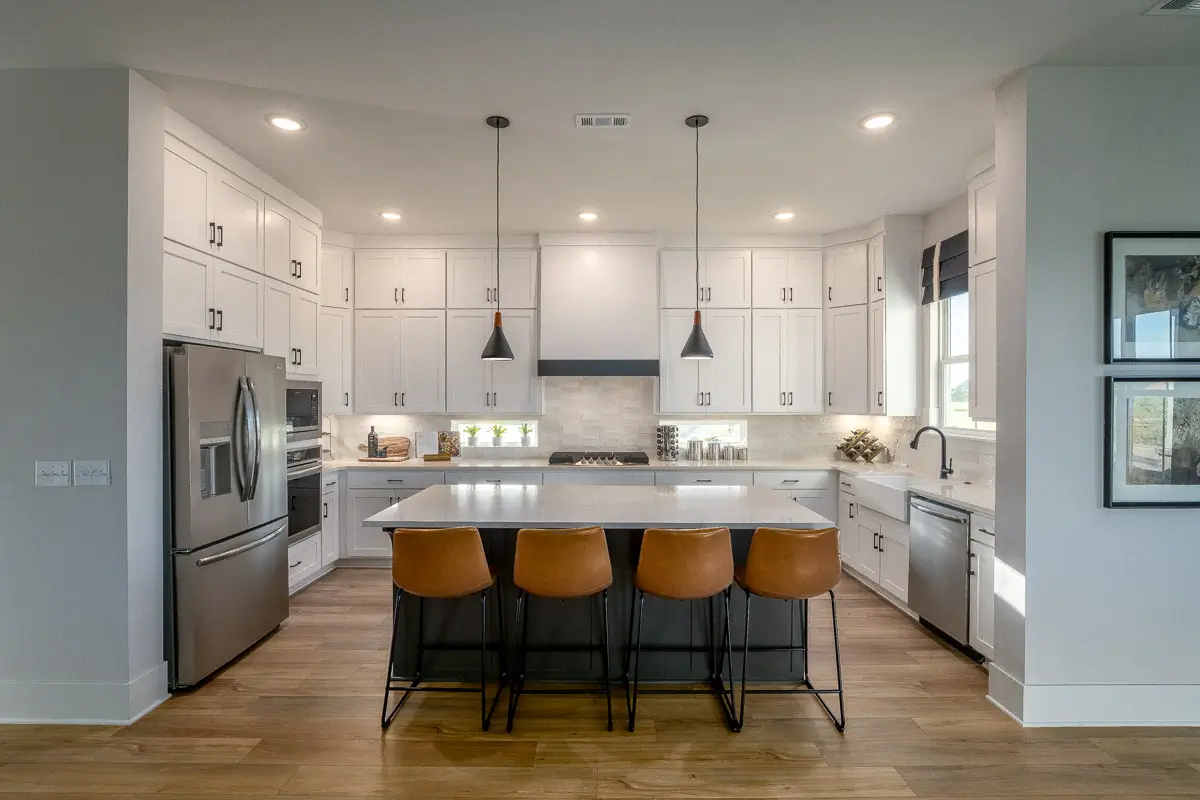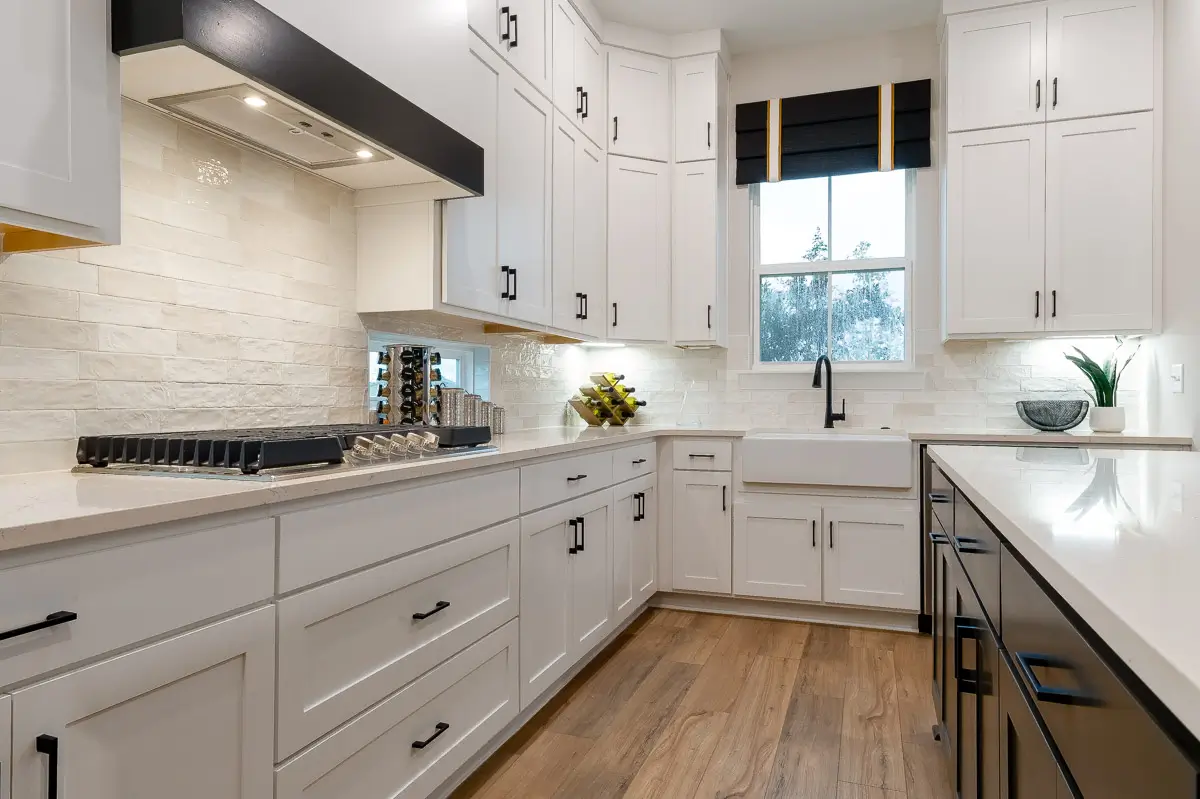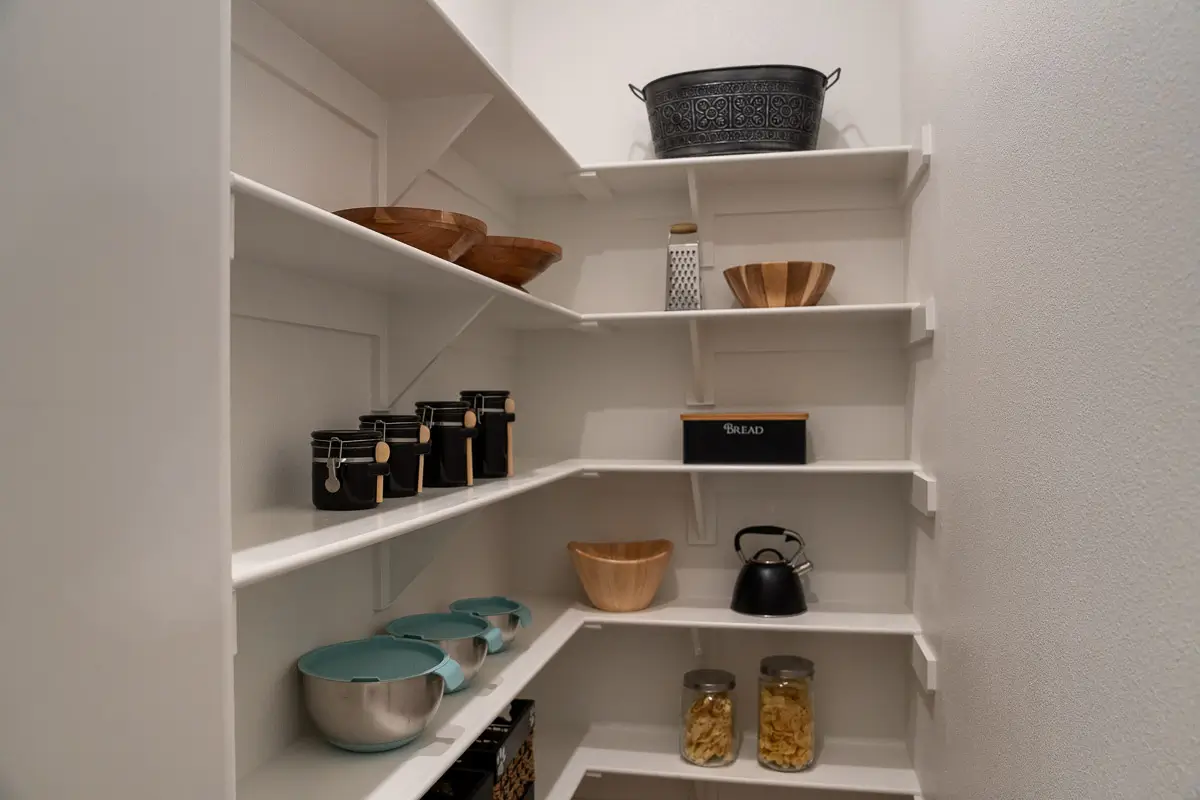 The kitchen is a modern culinary delight that serves as a testament to Buffington Homes' commitment to quality and aesthetics.
Design features to note: The backplash tile we chose for this kitchen is one of the most popular selections because it offers a subtle color variation and adds warmth and texture to the space. The island paint color is dark, giving the kitchen a more upscale, moody vibe. It also gives the room a nice focal point. For the counters, we chose Cambria Quarts for a long-lasting, elegant look. Our appliances are the Frigidaire Gallery series.
Our in-house design studio has a wonderful selection of tile, countertops, lighting, and hardware - all ranging in price, so you can easily find elements you love within your budget!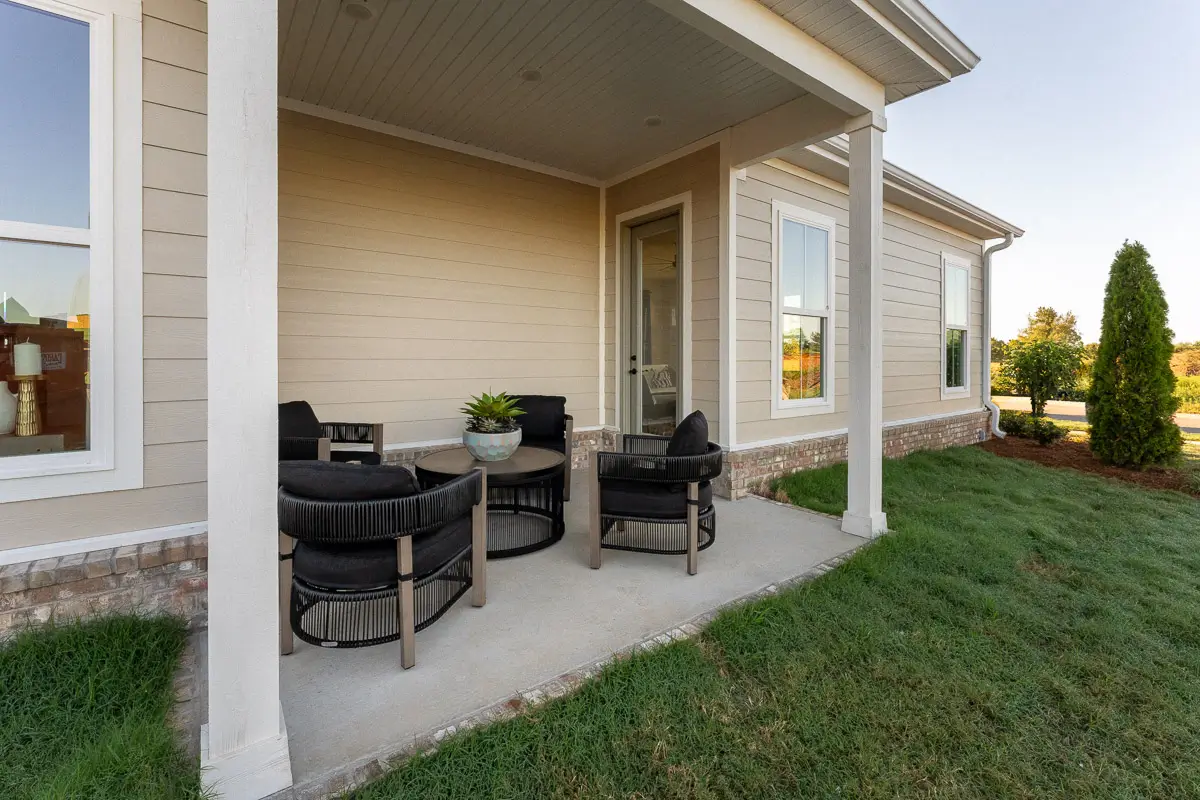 If you love outdoor living, you'll adore the patio located directly off of the living room. It provides an effortless blend of indoor and outdoor spaces. This is where you can host summer parties, book clubs, or other intimate gatherings. It would also be ideal for a quiet evening tea or peaceful morning coffee.
The Dahlia floor plan has three generously sized bedrooms and two and a half luxurious baths, ensuring every family member or houseguest has plenty of comfortable, private space.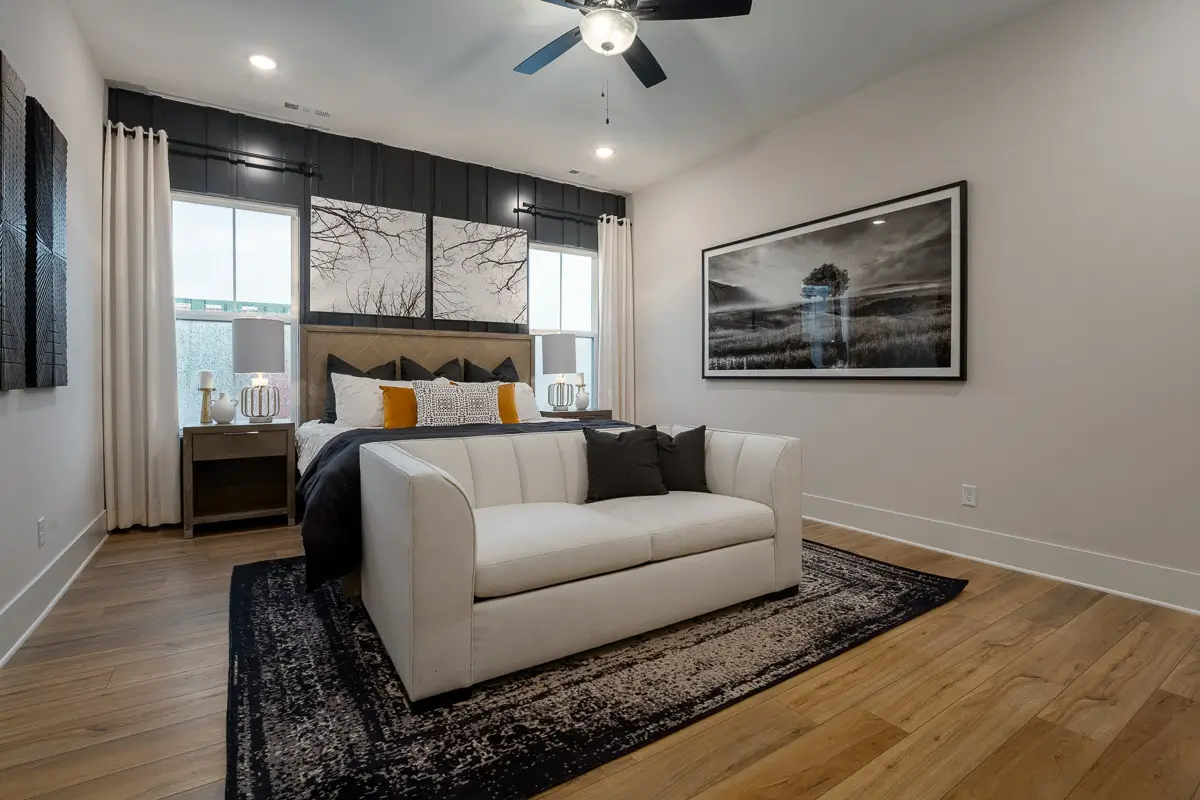 What truly makes this model stand out is the owner's retreat located on the first floor. Think of it as your sanctuary – an oasis of calm after a long day. The room is spacious enough for a king-sized bed, a loveseat, and a full-size dresser and offers the most luxurious bathroom. It isn't just a place to get ready; it's a sanctuary designed to pamper and revitalize your senses.
You'll step into a spacious shower that makes every morning feel like a retreat. The tile & flooring in this bathroom is reminiscent of a high-end spa, creating an atmosphere of relaxation and rejuvenation.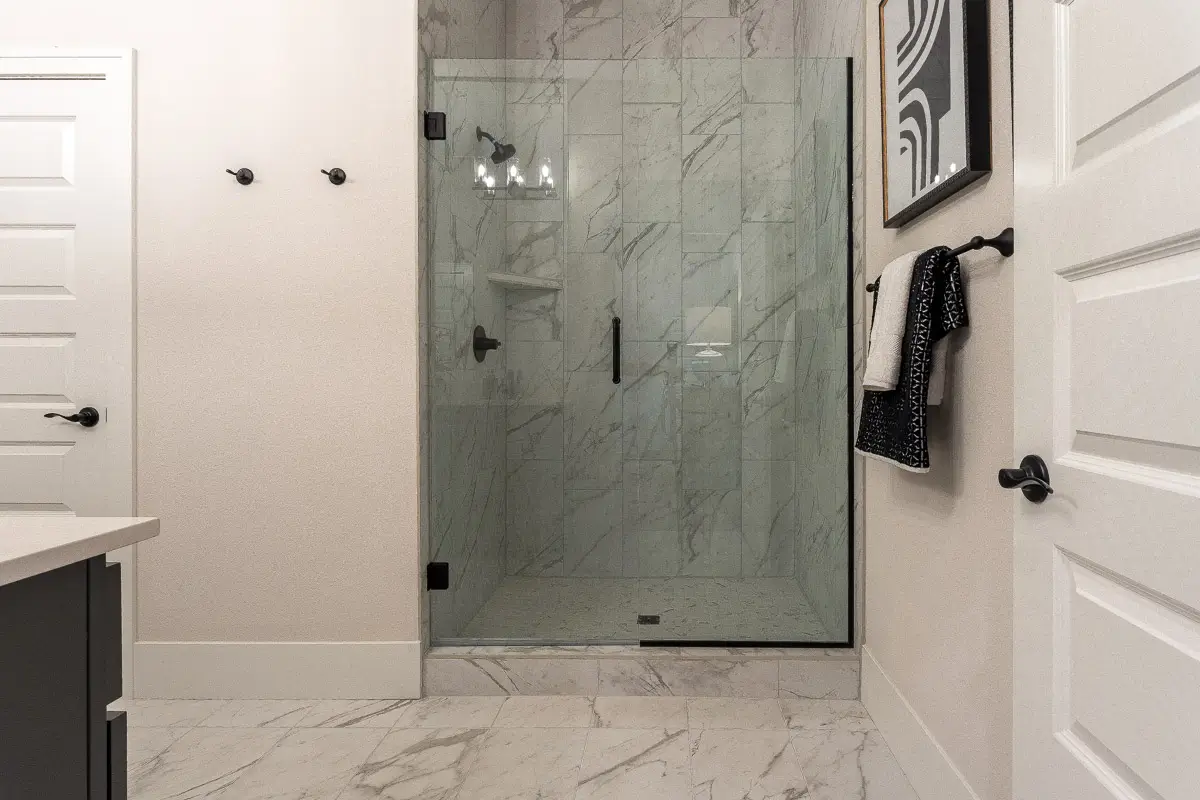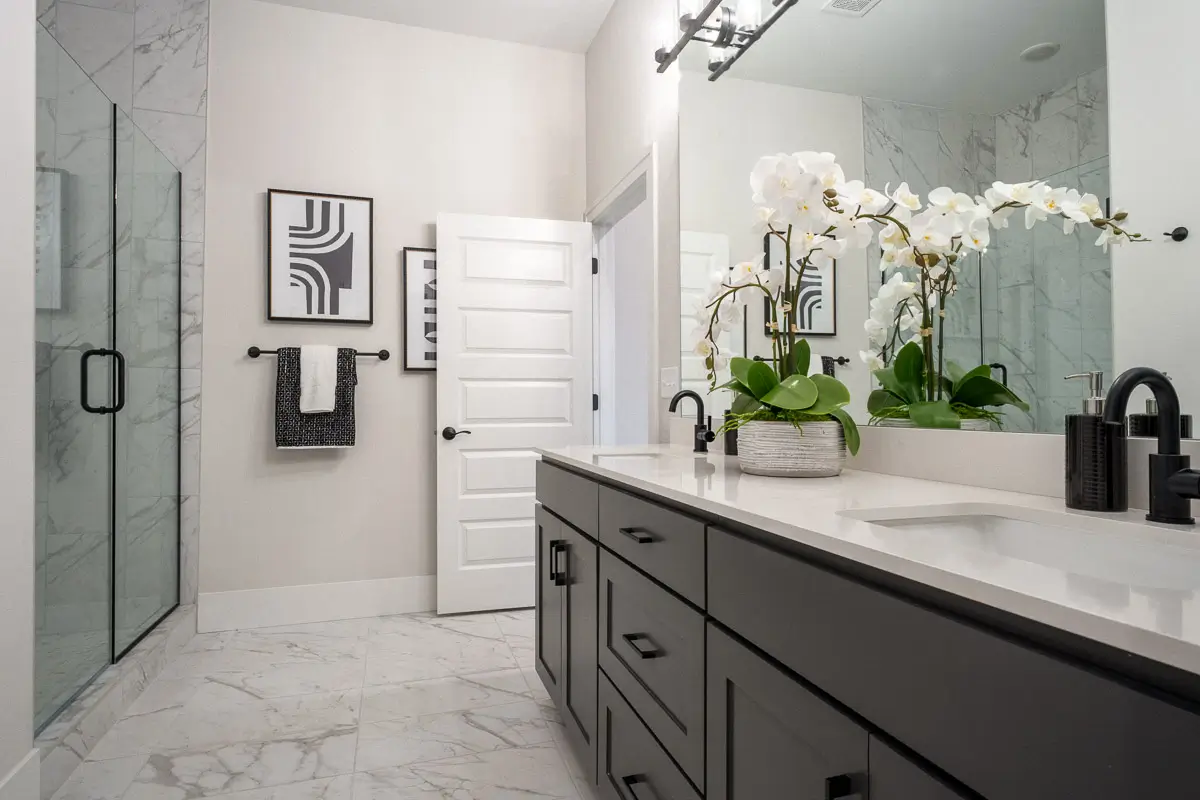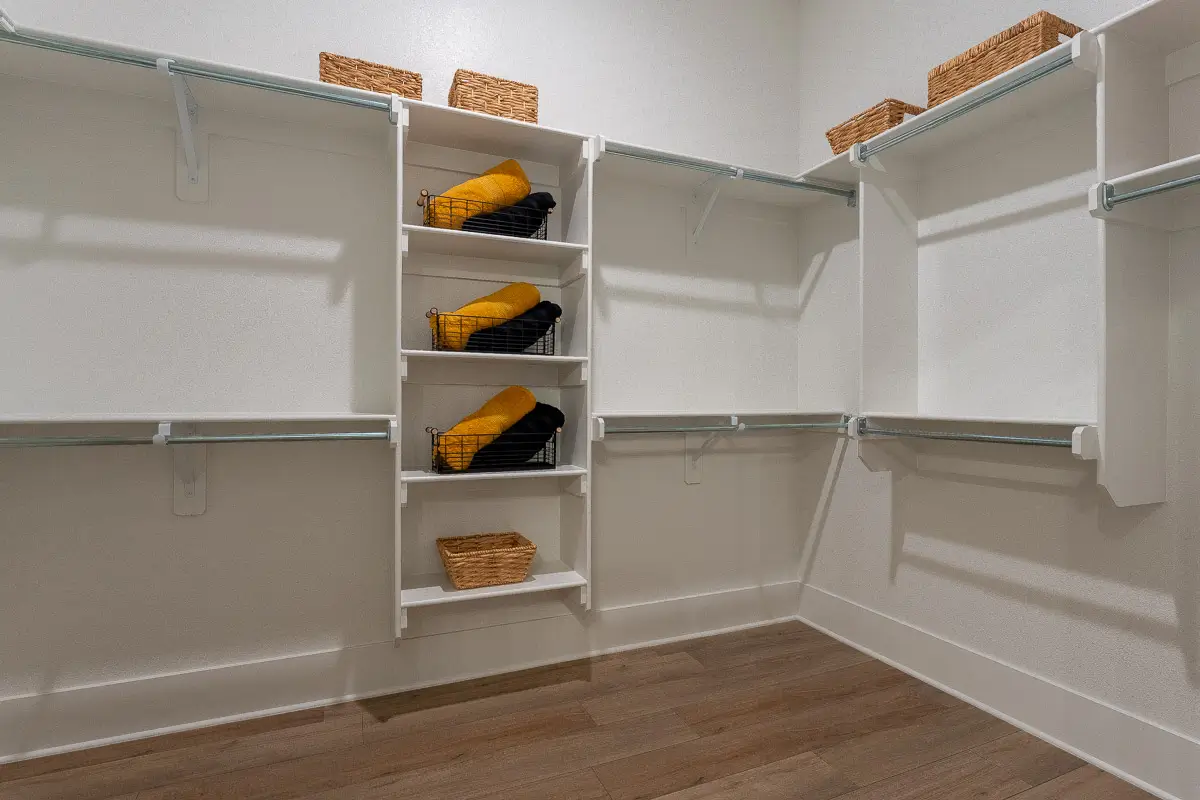 Design features to note: Silostone countertops not only provide an effortless, sleek appearance but also promise exceptional quality that stands the test of time. The classic black bar pull hardware adds a touch of timeless sophistication to the space. The cabinet's contrasting color scheme adds depth and character, creating a harmonious blend of style and functionality.
The owner's retreat also features a massive walk-in closet that's more than just storage—it's a fashion lover's paradise. This roomy haven offers plenty of space to neatly organize and display your wardrobe. With custom shelving and racks, this is where convenience meets elegance.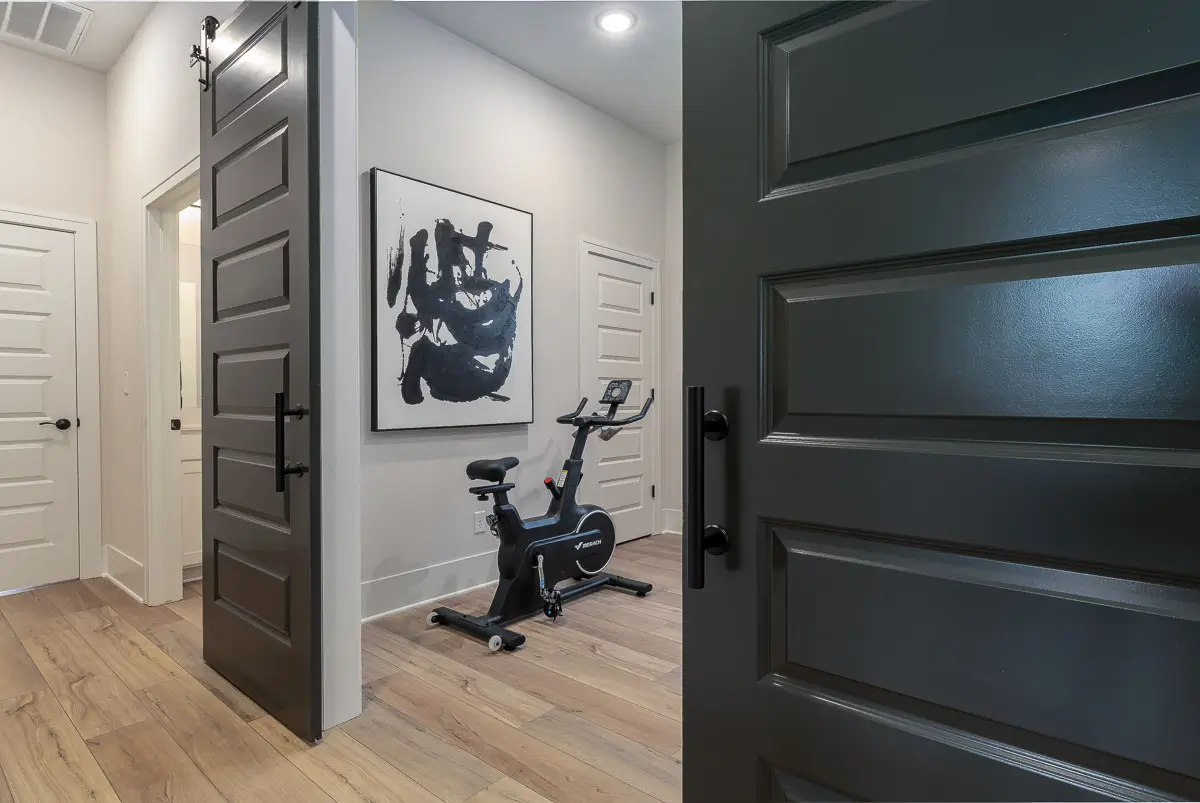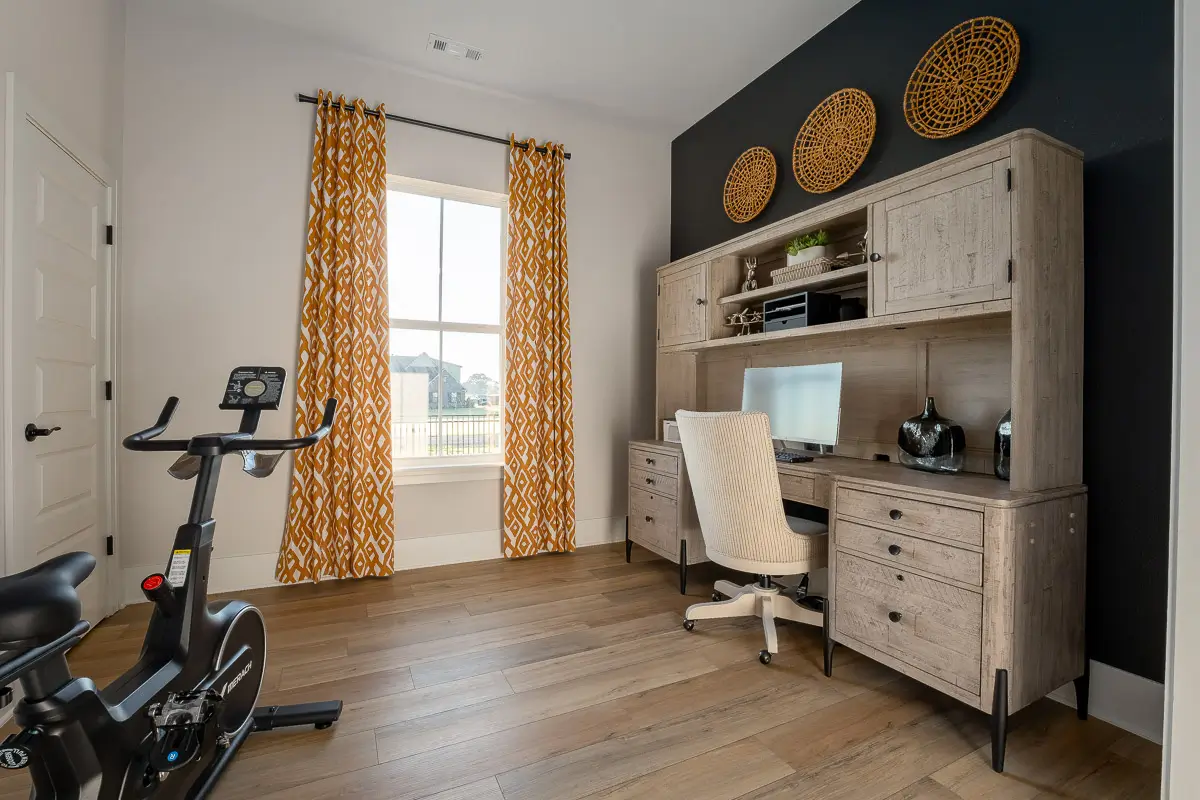 For those who need an extra bit of space, whether for work or recreation, the flex room on the first floor offers endless possibilities. Home office, fitness area, art studio, or even a playroom – this room is your canvas!
Stepping inside the flex room, you can see there's plenty of space to make it a multi-functional area for you. There's a closet for added storage as well!
Heading upstairs, you'll notice more natural light in the hallway, and the same LVT flooring is continued from the first floor. No detail was spared when thinking of ways to make this home feel warm and inviting.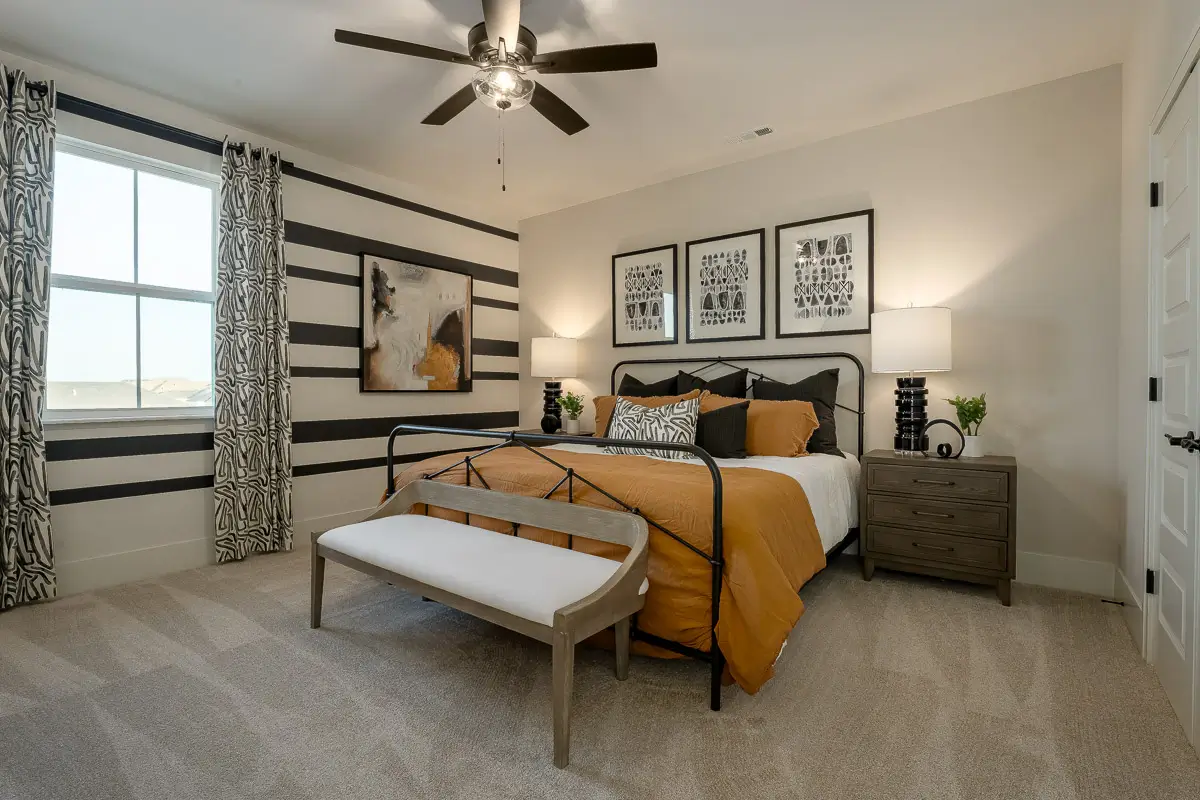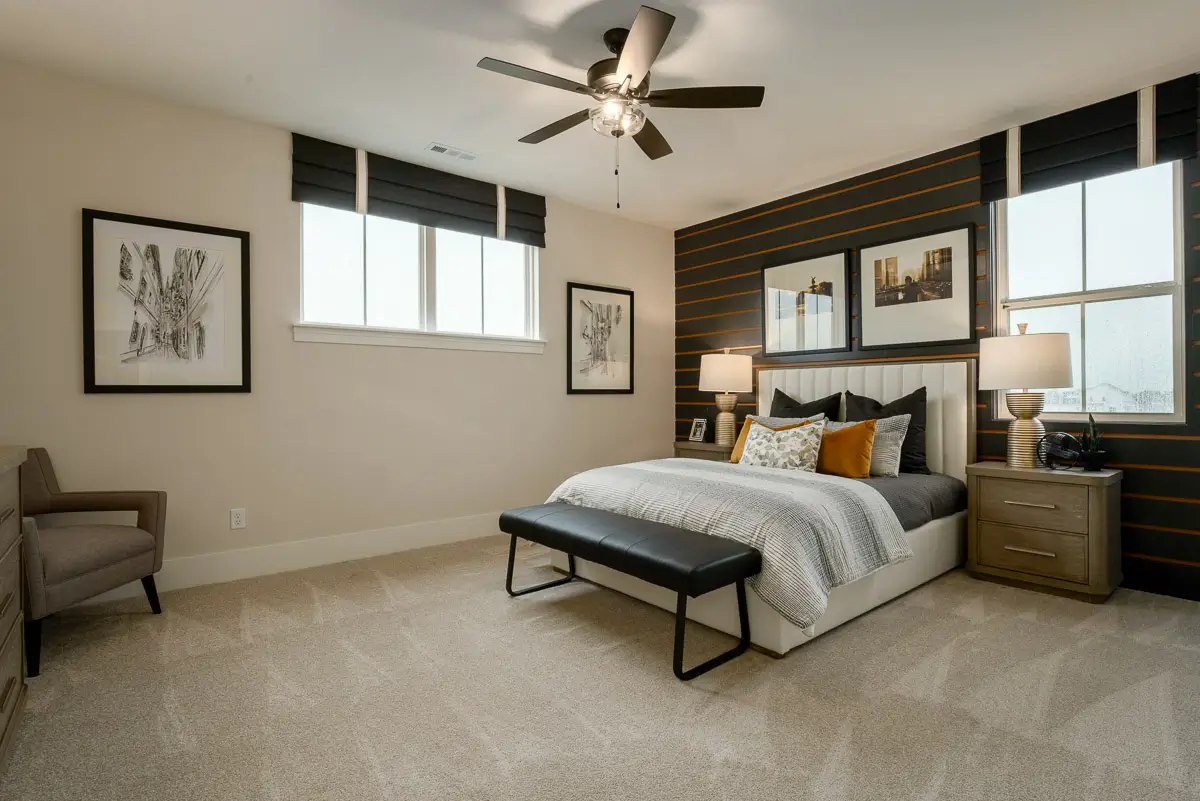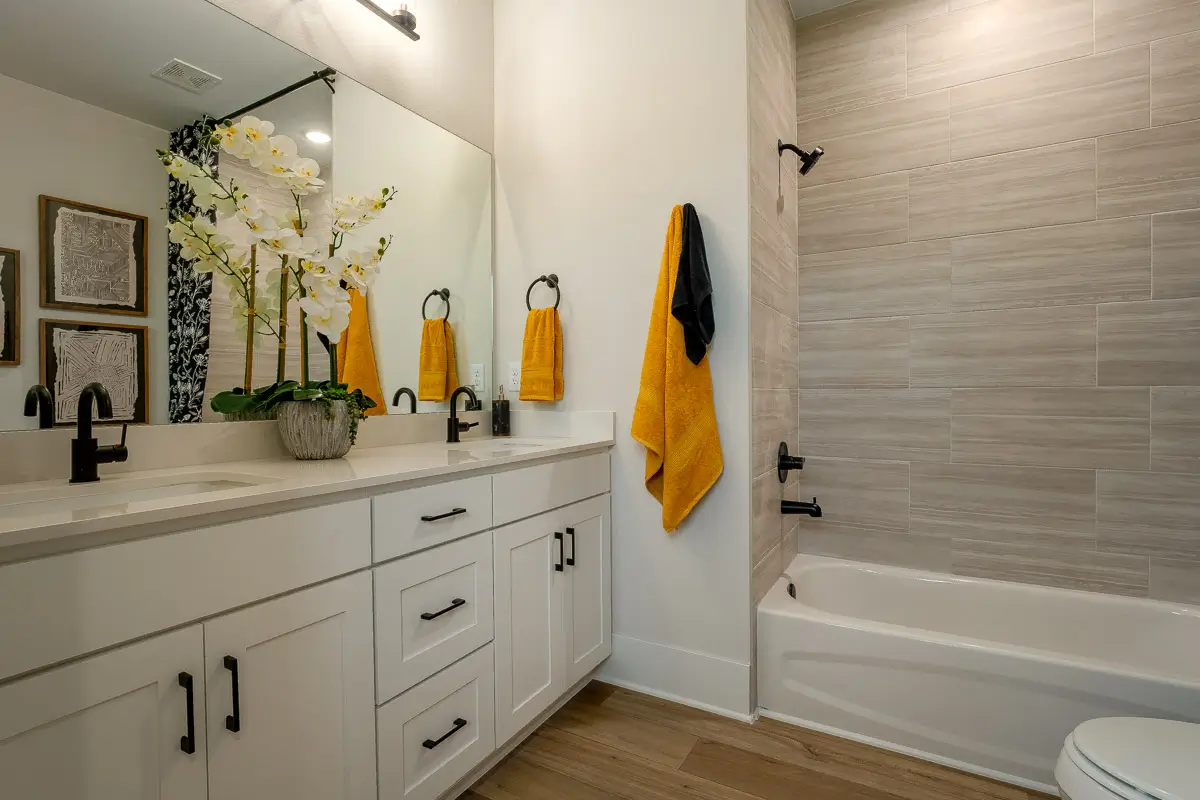 There are two large bedrooms upstairs, which would make an excellent space for the kids or guests coming to visit. They both have nice plush, textured carpets for added softness and a quieter room.
The upstairs also features a full bath, a space designed for both style and functionality. The clean and simple tile work keeps the ambiance welcoming without overwhelming.
Design features to note: Silostone countertops, just like in the owner's retreat bath, offer a seamless and high-quality finish. The LVT flooring matches the first floor and upstairs hallway. The cabinet color and hardware are in harmony with the kitchen and other bathrooms, which allows the space to maintain a unified and sophisticated look.
Before we conclude our tour, we can't forget to take you back to the welcoming front porch. It's more than just an entrance; it's the perfect spot to sit and enjoy a gentle Arkansas breeze, catch up on your reading, or watch the world go by. This home would be the perfect spot to call your own!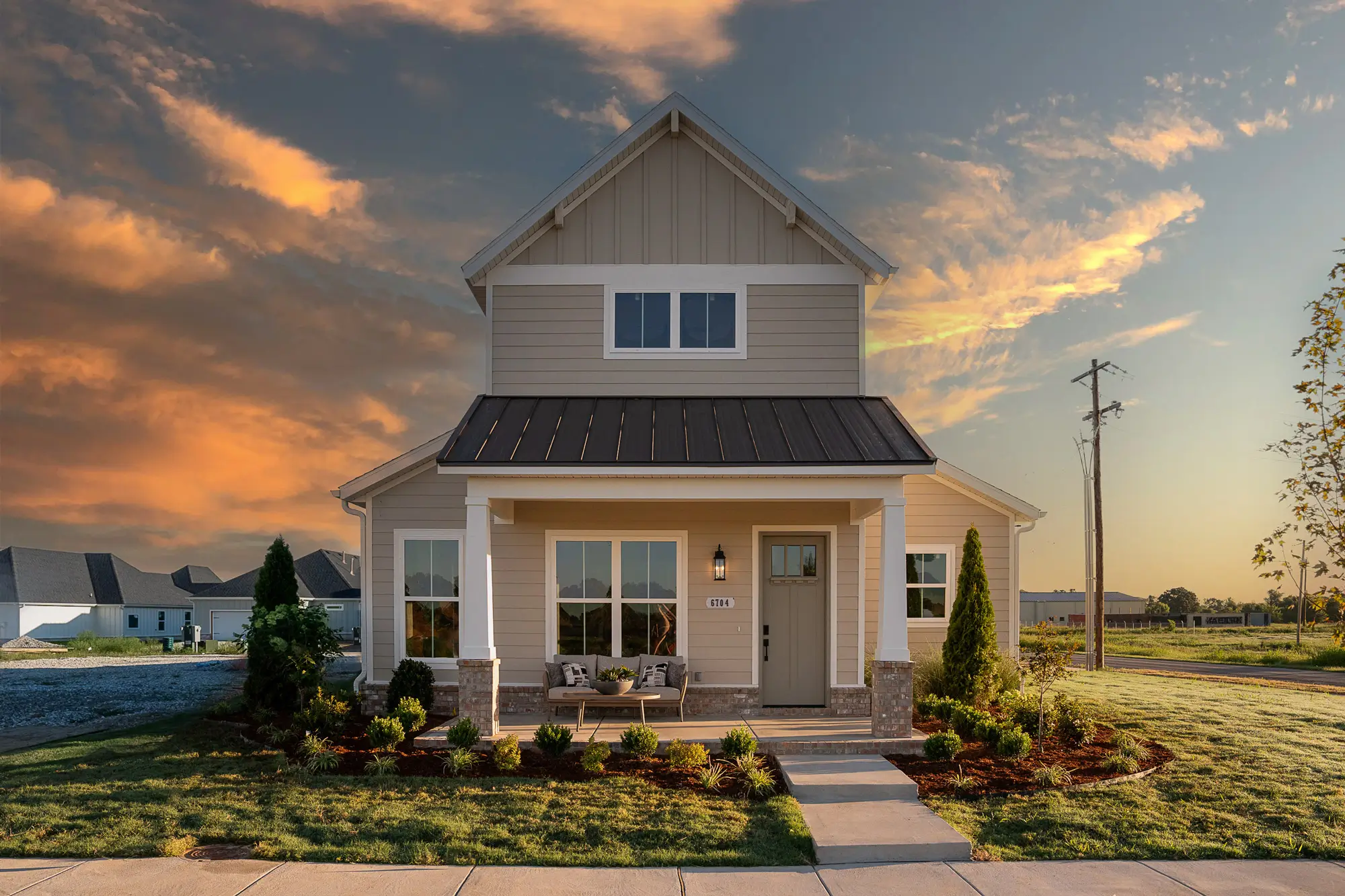 Why Choose Cottages at the Park?
Our community goes beyond just homes; it promises a lifestyle where every day feels like a vacation. With a design reminiscent of a coastal community, every street evokes a sense of tranquility. Picture rows of charming cottages, each with its unique character, all united by a shared vision of community and harmony.
And the best part?
You can choose from multiple floor plans and homesites to ensure your home reflects your dreams. Also, for those envisioning a relaxed future, whether you're retiring or often traveling for work, our community is tailored for you. With maintained lawns, say goodbye to weekend chores and hello to leisure.
The community is connected to Shaw Family Park, a newly constructed $10 million city park. Homeowners have direct access to walking trails, fishing ponds, a playground, tennis courts, green space, and more. It's the ideal spot for morning walks, weekend picnics, or playdates for the little ones.
To learn more about the community and area attractions, be sure to check out this article! >> More About The Cottages at the Park
For those interested in making Cottages at the Park their new home, Buffington Homes has a New Home Specialist stationed right at the Dahlia model home. This seasoned professional will guide you through the selection process, helping you find the floor plan that resonates with your needs and pairing it with the ideal homesite in this coveted community!
How to Get Started
Contact: Jamie Grayum, (479) 269-3737, info@buffingtonhomesar.com
Location: 6704 Autumn Avenue, Springdale, AR 72762
Hours: Monday-Saturday 10 am-6 pm; Sunday 1 pm-6 pm
Community Details: Visit the Community Page